WEBEX CLASSROOM
"Prepared in collaboration with the MD Anderson Cancer Center Research Medical Library, Laurissa Gann, Mahsa Dehghanpour and Robert Tillman."
PREPARE PARTICIPANTS FOR THE SESSION
CREATE THE OPTIMAL ENVIRONMENT
ROOM ADVOCACY
SET EXPECTATIONS FOR STUDENTS
POLLING
BREAKOUT ROOMS

PREPARE PARTICIPANTS FOR THE SESSION
Video
Visual presence and eye contact are important
Share your expectations with students
Bandwidth issues may impact the use of video
Preparation
Send agenda/material with hyperlinks ahead of time
Create an opening slide with a visual diagram of the virtual meeting features and expectations
Engage Participants
Welcome participants verbally if possible
Conduct non-verbal check-in at the start of meeting by asking a question
Be Transparent
Create virtual meeting norms or netiquette
Guide participants about the actions you take/expect them to take
Roll model expected behaviors
CREATE THE OPTIMAL ENVIRONMENT
Reduce Background Noise
Much like an in-person class, it is important to set expectations for student participation.
Close out all applications you won't be using during the session. Applications like your email can be both visually and verbally distracting.
Use a headset with a microphone. This will help your voice to be clear when you are speaking and reduce any noise in your environment.
To configure your meeting to mute each participant as they join the meeting, from the Participant menu, select Mute on Entry. Students will be able to unmute themselves when they are ready to speak.
To mute or unmute specific people, go to the Participants panel, find their name, and select Mute or Unmute.
To mute everyone at once, from the Participant menu, select Mute All or Unmute All.
You can turn off beeps and name announcements if you prefer not to hear notifications while you are engaging with participants. From the Participant menu, deselect Entry and Exit Tone.
Manage Bandwidth
Keep in mind that Webex requires a lot of bandwidth to operate and your attendees will have different levels of connectivity.
You may want to ask attendees to turn off their video when they are not speaking. This will reduce bandwidth significantly.
If you are concerned about engagement, another option would be to have attendees rotate their video, for instance, people whose last name start with A-G will have their video on for the first 15 minutes of class, H-N for the next 15 minutes, and so on.
The third option is to start with video and if you notice issues, you can ask participants to turn off their video for a while.
Manage Chat
A room advocate is a huge help when monitoring chat. They can watch the chat box and relay the question to the instructor at the appropriate time.
If you do not have a room advocate, you can open the chat panel while you are sharing your screen. The chat panel will not interfere with your screen sharing. In other words, the participants will not see your chat panel, only their own chat panel.
In Webex, participants can chat with "Everyone" or privately. To block private chatting in the meeting room from the Participant menu, select Assign Privileges, and uncheck Other Participants. This may help to reduce off topic conversations.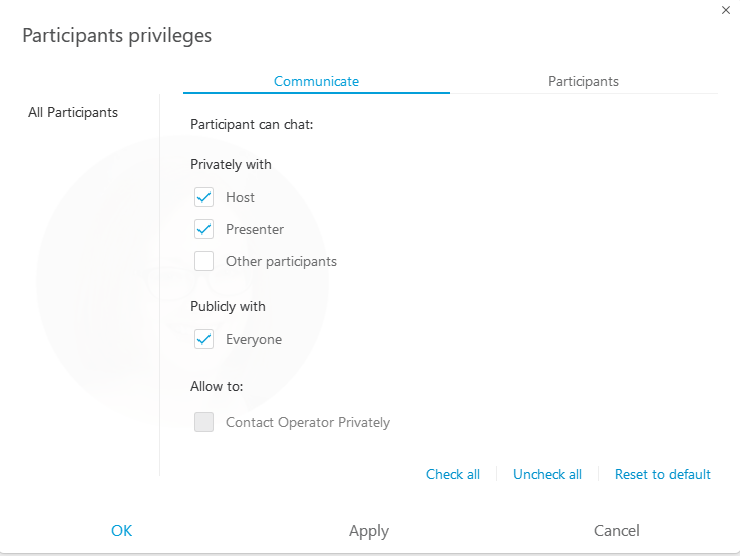 Lock Video View
From the active speaker video view, click on the Lock Video View (thumbtack icon).

Select Me to lock the main video on a specific participant for yourself only.
Select Everyone to lock the main video on a specific participant for everyone in the meeting.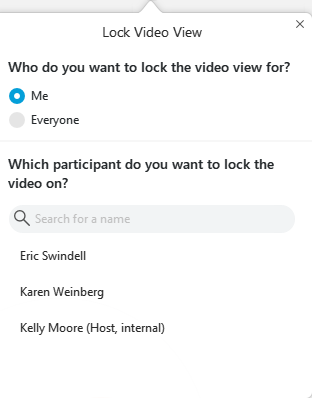 Change Presenters
The host has the ability to designate another meeting attendee as the Presenter.
Right-click the desired participant's name on the Participants panel, then select Change Role To > Presenter.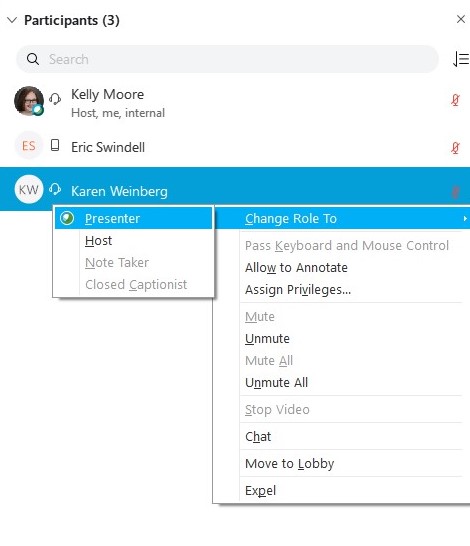 ROOM ADVOCACY
Assign a Room Advocate
A room advocate or assistant is extremely helpful when teaching. An advocate could be a colleague or teaching assistant. Their role is to manage any issues that might arise so the instructor can focus on instruction.
A room advocate can assist in the following ways:
Manage chat and files. An advocate can relay questions to the instructor or answer them in the chat without interrupting the session.
Troubleshoot by muting attendees, turning off video, and troubleshooting student issues with sound and video.
Take attendance.
Watch for raised hands.
SET EXPECTATIONS FOR STUDENTS
Much like an in-person class, it is important to set expectations for student participation.
Do you want them to have their video on? If so, they should test their video capability. Keep in mind that if their internet is slow they may not be able to use video. How should they communicate this to you?
How should they ask a questions? Do you want them to use the chat? Should they raise their hand and wait for you to call on them?
How would you like students to use the chat box? To ask questions, share feedback?
POLLING
Polling can be used in education to:
Evaluate students' understanding, obtain anonymous feedback, ask for opinions, or assessment.
Turn on Polling feature
For first-time use, users must add the polling panel.

Select View > Panels > Manage Panels to add the Polling panel to your meeting.
On the Manage Panels page, select Polling from the Available panels and click Add. Then, click OK.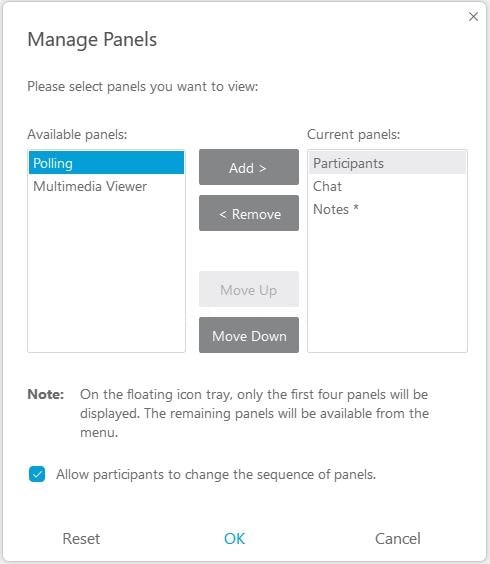 Create a Poll
Select the question type from the drop-down list in the Question section of the Polling panel.
Click New to create a new question.
Type your question in the text box that appears and press Enter. In the text box that appears, type an answer to your question and press Enter. Repeat this process for as many questions and answers that you want to add.
Click Open Poll.
View Webex support article in Polling
BREAKOUT ROOMS
Currently, Webex Meetings does not have breakout room functionality. To use breakout rooms you must use Webex Training. Details about creating a Webex Training session can be found here. Additional details on Managing Breakout Sessions in Webex Training can be found here.