Graduate School hosts 9th annual Evening of Discovery
February 20, 2018
Tracey Barnett
The University of Texas MD Anderson Cancer Center UTHealth Graduate School of Biomedical Sciences hosted its 9th annual Evening of Discovery on Wednesday, Jan. 31, at the Houston Country Club. The event is a unique opportunity for the UTHealth community of supporters to learn about the incredible research happening at the Graduate School. Ten GSBS student shared their recent biomedical breakthroughs with the group. Those students were: Kristine Ferrone, Kiefer Forseth, Ayesha Khan, Leandra Mangieri, Sara Martin, Travis Salzillo, Deborah Silverman, Smruthy Sivakumar, Sarah Wu, Ndidi Uzor.
Here are some photo highlights from the event.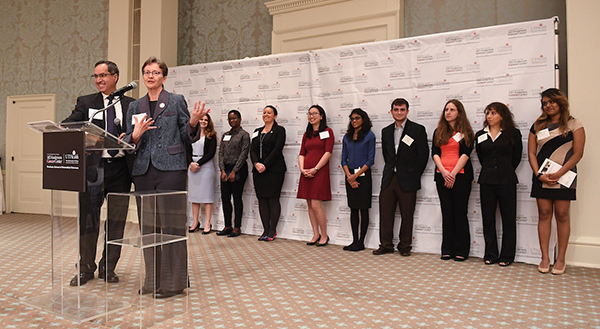 MD Anderson UTHealth Graduate School Deans Michael Blackburn, Ph.D., and Michelle Barton, Ph.D., speak to the guests at the ninth annual Evening of Discovery. The deans also introduced the students presenting at event.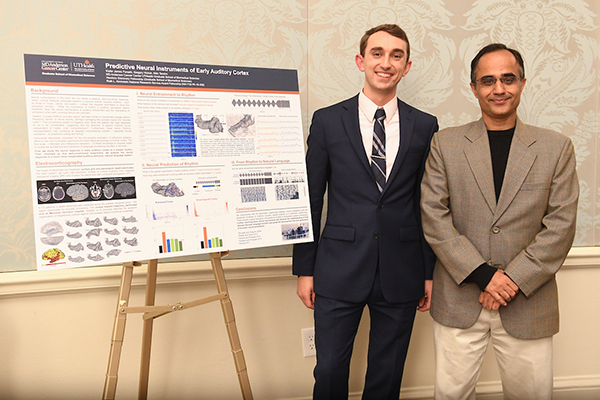 Student Kiefer Forseth, left, and his advisor, Nitin Tandon, M.D. Forseth is a second-year graduate researcher in the Neuroscience Program studying the neurobiology of language in the intracranial electrophysiology.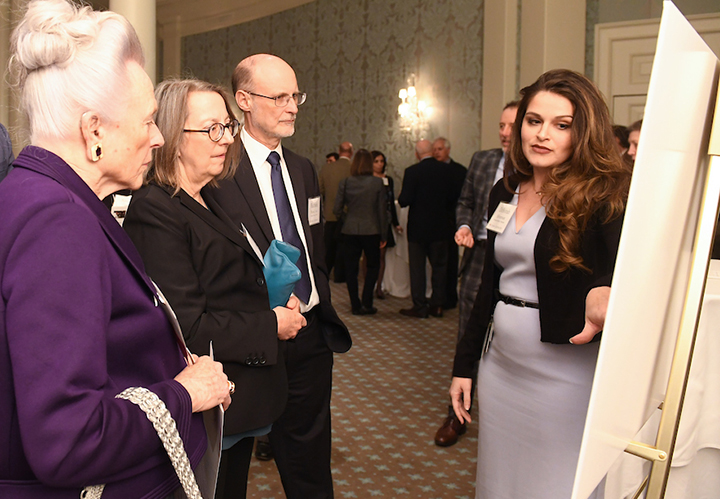 Student Deborah Silverman presenting her research to the event guests. Silverman is a second year graduate student and fifth-year M.D./Ph.D. researcher in the Immunology Program studying the role of p53 in regulating T-cell mediated immune evasion in pancreatic adenocarcinoma.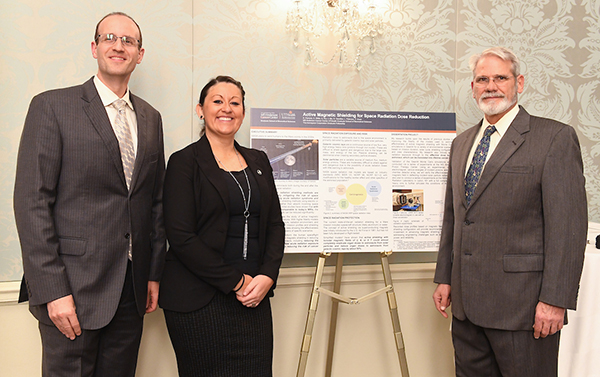 Student Kristine Ferrone with her faculty advisors, Stephen F. Kry, Ph.D., left, and Charles E. Willis, Ph.D. Ferrone is a third-year graduate student in the Medical Physics Program and her research focuses on space radiation, a major risk for long-duration human space flight.
Additional photos for the event may be viewed here.