GSBS 2018 Commencement Recap
May 20, 2018
Tracey Barnett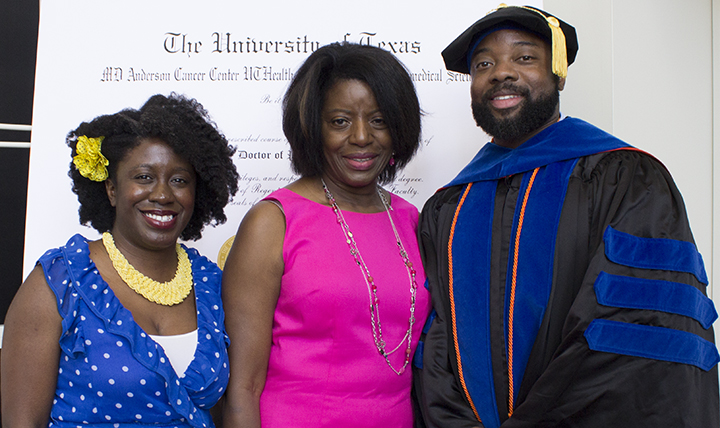 Graduate Malik Raynor, Ph.D., poses in front of a replica Ph.D. diploma with his family at the GSBS Commencement Ceremony.

The University of Texas MD Anderson Cancer Center UTHealth Graduate School of Biomedical Sciences held its 52nd commencement ceremony on Saturday, May 19, at Rice University's Alice Pratt Brown Hall.

The event recognized 11 M.S. and 49 Ph.D. students as well noted speaker and two faculty award recipients— Ambro van Hoof, Ph.D., the 2018 D. Dudley and Judy White Oldham Faculty Award; and Mien-Chie Hung, Ph.D., 2018 John P. McGovern Award for Outstanding Teaching.

The commencement speaker was Phillip A. Sharp, Ph.D., institute professor and Nobel Laureate from MIT; and the distinguished alumnus was David Voehringer, Ph.D.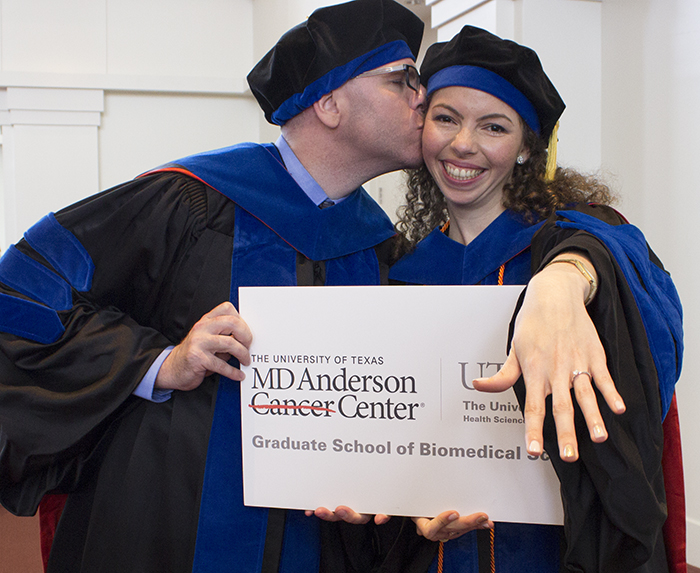 Graduates Angie Torres-Adorno, Ph.D., shows off her new engagement ring from her fiance, John Morrow, Ph.D. Morrow, with the help of the GSBS Deans and staff, suprised Torres-Adorno with a marriage proposal at the ceremony. She said "yes" to the proposal.



This year's ceremony had a special surprise as newly-hooded doctorate John Morrow, Ph.D. popped the question to his longtime girlfriend and fellow graduate Angie Torres-Adorno, Ph.D. With help from the Graduate School Deans and staff, the proposal was a secret from Torres-Adorno. The two met at a Graduate School social event nearly four years ago and both studied novel treatments for breast cancer at the school.

Watch the entire commencement ceremony at go.uth.edu/GSBS2018gradvideo, and see photos from the reception at go.uth.edu/GSBS2018gradphotos.