Q&A with Quantitative Sciences grad Youyi Zhang, Ph.D.
January 10, 2019
QS Program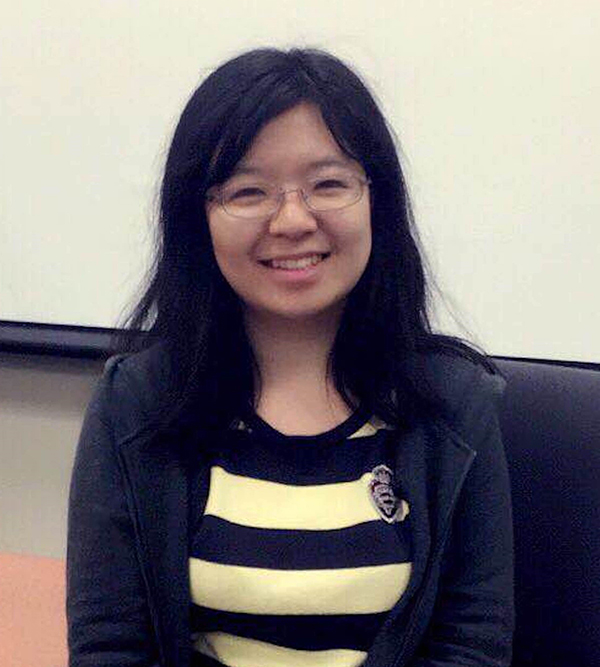 In this interview, December 2018 graduate Youyi Zhang, Ph.D., shares how her education at the Graduate School helped her land a job in the pharmaceutical industry.
What are your plans now that you have graduated from the Quantitative Sciences Program at MD Anderson UTHealth Graduate School?
I have accepted a job as a senior data scientist at AstraZeneca in Gaithersburg, Maryland.
How long did graduate school take you to complete?
I completed my Ph.D. degree from the GSBS in 4 ½ years.

What types of experiences did you gain from your studies at the Graduate School?
My studies at the Graduate School provided me with a lot of great and varied experience. I learned so much. It was so helpful to be exposed to and work in such a multidisciplinary environment with people from different research fields such as Systems Biology, Biostatistics, and Bioinformatics.
After getting your Ph.D., what type positions were you looking for?
I am interested in research and development (R&D) in the health care field, specifically machine learning, and big data analysis. IT was also an option, but I preferred to stick with health care, therefore I searched for a position at pharmaceutical or biotech companies.
When did you start looking for a job?
I attended the Eastern North American Region (ENAR) International Biometrics Society Spring Meeting in mid-March of 2018 and participated in their job fair. While there, I was able to test the market and got interviews with several places. Some thought it was too early for me to start my career search, but I was able to get some experience interviewing and talked with people from different companies. While there, I got an interview with the FDA, and received an offer from them after a further onsite interview in August 2018; but I felt the offer from AstraZeneca was the best fit for me. I received five job offers total from well-known pharmaceutical companies and one government institution.
My supervisors encouraged me to attend the Joint Statistical Meetings (JSM) Conference, which was helpful in job search. I found attending conferences to be great opportunities to get exposed to the most cutting-edge research topics, network, and search for a job.
The offers that I received were in three areas: clinical trial design, pre-clinical research, and developmental data sciences. My new position will focus on late phase exploratory and decision-making in clinical trial using big data analysis, machine learning, and deep learning algorithms.
My experiences and training at the GSBS were paramount to me landing the job at AstraZeneca. The fact that I was a student with individual research training was impressive to them. In all my interviews, employers were looking to see if I could solve problems presented to me with my own ideas and critical thinking skills. Through my responses, my interviewers were able to gauge my ability to develop promising solutions to real world problems.
I did research for 3 ½ years during my Ph.D. studies with my advisors Veera Baladandayuthapani, Ph.D., and Jeffrey Morris, Ph.D., which allowed me to be proactive, and use critical thinking skills to solve research problems. With encouragement from my supervisors and a sufficient research environment, I was able to be learn so many things, and I collaborated with so many different types of groups. I also benefited from being at the GSBS during my qualifying exam and committee meetings by being able to handle critical feedback and advice. It was challenging, but it all helped me to build up my problem-solving mindset and to improve my communication skills, which were imperative for my job interviews.
What would be your advice to current students?
I would give three pieces of advice to current students:
During your first project, don't be afraid to let your PI guide you into the research field that you are not quite familiar with. You should lean on their expertise. During your second and third projects, try to jump into the project proactively and confidently with independent thinking and get feedback from supervisors. Even though the ideas may not work, the cumulative thinking experience will definitely help you in future.
Do summer internships. This is where I got a sense of the pharmaceutical industry or any field you are interested in. Pharmaceutical companies treasure experience, and if they can tell that you have some experience and basic skills of the industry from your resume, they will be more likely to offer you an interview. The internship experience especially benefits students whose research background deviates from clinical trial design, survival analysis, and other clinical related fields. I did a summer internship in clinical trial design with Eli Lilly in 2017. The pharmaceutical experience that I gained there helped me land my ideal position at AstraZeneca.
Be positive and proactive not only in research itself, but also in communicating with people, such as supervisors and collaborators. Be clear and affirm what you would like to obtain, such as short-term goals and specific timeline. Optimize your time in a positive way when you encounter difficulties.