Paudyal receives HAMBP Fellowship
October 30, 2018
Tracey Barnett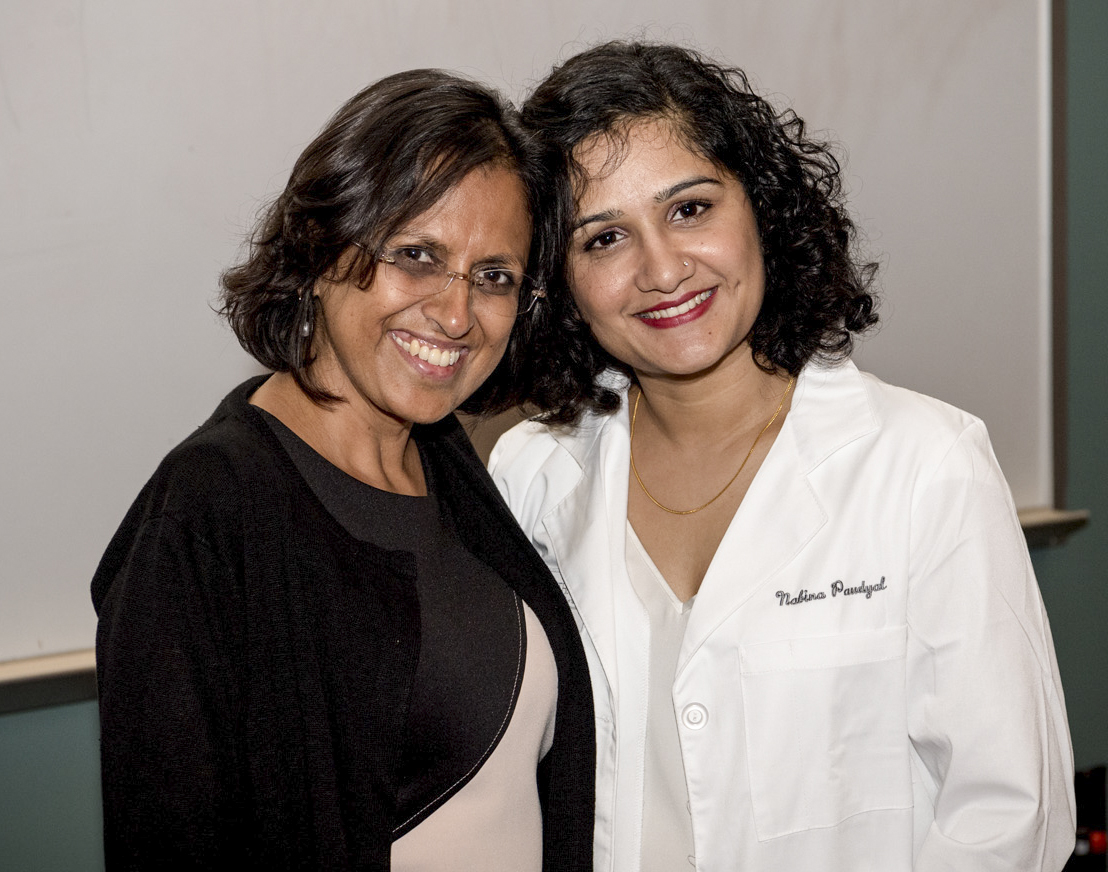 GSBS student Nabina Paudyal, right, seen here with her advisor Vasanthi Jayaraman, Ph.D., was awarded a Houston Area Molecular Biophysics Training Program (HAMBP) Fellowship.

The University of Texas MD Anderson Cancer Center UTHealth Graduate School of Biomedical Sciences student Nabina Paudyal received a Houston Area Molecular Biophysics Training Program (HAMBP) Fellowship, which includes up to three years of financial support. Paudyal is affiliated with the Program in Biochemistry and Cell Biology and her advisor is Vasanthi Jayaraman, Ph.D.

In her research project, Understanding the allosteric mechanism in kainate receptors by probing single molecule FRET and molecular dynamics simulation, Paudyal investigates kainate receptor (KARs) proteins, which play an important role in transmitting signals from neuron to neuron by binding the chemical messenger glutamate (the most prominent neurotransmitter in human central nervous system). KARs are unique proteins as they are localized to both signal-passing (pre-synaptic) and signal-receiving (post-synaptic) areas of neurons and can participate in the inhibition and excitation of glutamate signaling.

Glutamate binding to the KAR causes structural changes that allows for opening of channel and the passing of cations through the channel pore. The mechanism of how the structural changes occurring in the protein translate into functional outcomes driving channel activation is yet to be explained. Additionally, the discovery of KAR modulating Neto proteins has added complexity to the structure/function relationship for kainate receptors.

In this project, Paudyal and Jayaraman focus on using biophysical techniques including: a) single molecule FRET for understanding the structural changes that KAR undergo for channel activation, b) protein-protein crosslinking and electrophysiological analysis for studying functional changes, and c) molecular dynamics simulations for complementing experimental results. These studies will provide structural insights on KARs activity and serves as a basis for treatment strategies for neurological disorders.

The inter-institutional nature of the HAMBP provides a rich variety of biophysical training with access to state-of-the-art-resources and leading scientists from across the Texas Medical Center.

"The training protocols that HAMBP has committed have outstanding approach in supporting students for progressing in the biophysical research through advanced coursework, seminars, meetings, and mentoring by outstanding faculty of different backgrounds," said Paudyal. "Support from HAMBP will not only help me to develop my scientific skills, but also will help me become an independent researcher and a valuable member of the research community."

Find more information about training opportunities available to GSBS students on our website here or by contacting Assistant Director of Graduate Education Kelly Moore, Ph.D.