Jewell named UT System's new student regent
July 30, 2018
Rob Cahill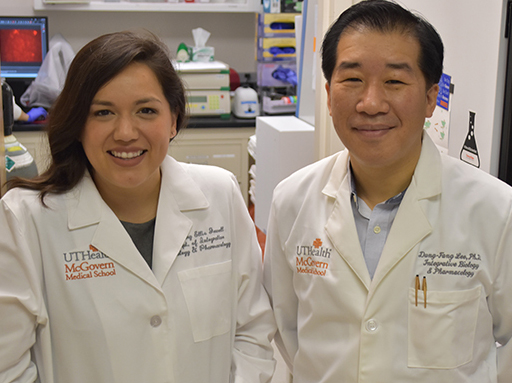 The war against cancer is personal for the Houston graduate student appointed to The University of Texas System Board of Regents by Texas Gov. Greg Abbott.
Brittany Jewell, whose one-year term as a member of the UT System Board of Regents runs through May 31, 2019, is conducting cancer research at The University of Texas MD Anderson Cancer Center UTHealth Graduate School of Biomedical Sciences.
"Everyone knows someone who has been affected by cancer," said Jewell of Houston. "Since beginning my graduate studies, I have been able to focus my long-standing interest in oncology to make a difference for children affected by this debilitating disease."
Bone cancer or osteosarcoma is the third leading cause of cancer-related deaths in children in the United States.
Working in the laboratory of Dung-Fang Lee, Ph.D., at McGovern Medical School at The University of Texas Health Science Center at Houston (UTHealth), Jewell is researching a rare genetic disorder that predisposes children to bone cancer. It is called Rothmund-Thomson Syndrome.
"Brittany has the qualities of a good researcher," said Lee, a bone cancer researcher and an assistant professor of integrative biology and pharmacology at McGovern Medical School. "She is very determined."
In particular, Jewell is using reprogrammed stem cells to develop a bone cancer model that she will use to study bone cancer formation. Formally called induced pluripotent stem cells, the cells are derived from human skin cells. Ultimately, researchers could use findings from these studies to test promising treatments for osteosarcoma.
A graduate of Baylor University and Clear Lake High School, Jewell is also exploring the role of a genetic alteration in a gene, called RECQL4, that contributes to Rothmund-Thomson Syndrome.
Jewell plans to graduate in May of 2020 with a doctoral degree in biochemistry and cell biology from the MD Anderson UTHealth Graduate School. "Students such as Brittany contribute a lot to medical research. They have new ideas and a fresh perspective," Lee said.
In 2005, the 79th Texas Legislature authorized the Texas governor to appoint one student regent to the Board of Regents for the UT System. Students must be in good standing and be recommended by their respective institution's president.
"It's important for students to have a voice on the UT System Board of Regents. My focus this year is on student wellness, with a particular interest in mental health," Jewell said. "I plan to use this year as regent to learn the wellness needs of students across the UT System and work with other student leaders to achieve greater accessibility and awareness of available resources."
Charged with representing the 200,000 plus students at the UT System's 14 institutions, Jewell plans to visit with as many students as possible during her term.