In memoriam: R.W. Butcher, GSBS Dean 1979-1996
October 19, 2017
Tracey Barnett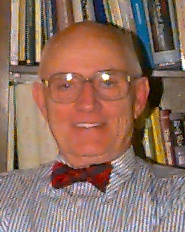 Reginald W. "Bill" Butcher, Ph.D., dean of The University of Texas MD Anderson Cancer Center UTHealth Graduate School of Biomedical Sciences from 1979-1996 passed away October 12. He was 87.
Butcher received his undergraduate degree in engineering from the U.S. Naval Academy in 1953. After a stint in the U.S. Air Force, he earned his Ph.D. from Case Western Reserve University in Ohio in 1963. As a postdoctoral fellow at Case Western, he worked with Earl W. Sutherland, Jr., M.D., on the cyclic nucleotide research that later resulted in Sutherland receiving the Nobel Prize in Physiology or Medicine in 1971.
Butcher spent the early part of his teaching and research career at Vanderbilt University, then moved to University of Massachusetts Medical School in Worcester where he was appointed professor and chairman of the Department of Biochemistry; later serving as acting dean of the Medical School.
Butcher came to Houston and the GSBS in 1979 and served as dean until his retirement in 1996. During his decanal tenure at the Graduate School, he also held the titles of:
Ashbel Smith Professor, Biochemistry and Molecular Biology at The University of Texas Health Science Center at Houston (UTHealth);
Professor of Pharmacology at UTHealth;
Professor of Biochemistry at The University of Texas MD Anderson Cancer Center;
Director, Speech and Hearing Institute;
Director, Institute for Technology Development and Assessment;
Director, Positron Diagnostic and Research Center; and
Vice President for Scientific Affairs.
An interview featuring Butcher was published in the UThouston monthly publication in November 1996. Click here to read the article.
He was appointed professor emeritus in the Department of Pharmacology at McGovern Medical School in February 1997.
Staff and faculty remember seeing Butcher often riding his bicycle to the GSBS and was happiest when the students were gathered in Grant Fay Park to watch him flip hamburgers for a social gathering.
In 1997, the first recipient of the R.W. Butcher Achievement Award was named. This award was established to honor Butcher and recognizes GSBS students who have achieved excellence in research and have made contributions to society as a whole, with the highest ethical standards.
His family is planning a summer memorial service. Those who wish to make a contribution in Dr. Butcher's honor may do so at https://giving.uth.edu/memorial.