Forseth awarded NIH F30 fellowship
March 09, 2018
Tracey Barnett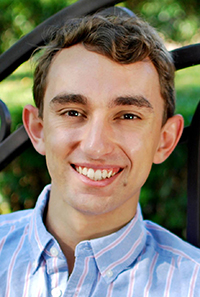 The University of Texas MD Anderson Cancer Center UTHealth Graduate School of Biomedical Sciences at Houston would like to congratulate student Kiefer Forseth for receiving an Individual Predoctoral NRSA M.D./Ph.D. Fellowship (F30) from the National Institute on Deafness and Other Communication Disorders at the National Institutes of Health. His advisor is Nitin Tandon, M.D.
This NIH support will fund three years of Forseth's Ph.D. training as well as the two remaining years of his M.D. training at the John P. and Kathrine G. McGovern Medical School.
"This fellowship is an important step towards my goal to develop a career for myself as a physician-scientist, pursuing translation and transformative research for use in the clinic," said Forseth.
His research examines human capability for speech. Despite consensus on the abstract cognitive processes that lead from the intention to speak to the articulation of a word, there remain questions about the architecture and function of the broad network of brain regions that support speaking aloud.
In the Tandon lab, Forseth and his colleagues use recordings from electrodes placed directly in the brain, implanted for pre-surgical planning in patients with drug-resistant epilepsy. These patients offer a unique opportunity to study language by completing language tasks while in the hospital with implanted electrodes. The goal is to gain a better understanding of speech production and its emergence from brain networks, which could lead to treatments that would help patients with damaged language faculties.
"I am inspired by patients who, during one of the most difficult periods of their lives, express a desire to help improve the care of future patients by participating in research with our lab," said Forseth.
Forseth is a student in the joint M.D./Ph.D. Program. He came to Houston in 2010 to pursue a dual degree in electrical engineering and performance piano at Rice University. While studying near the Texas Medical Center, he became interested in the magnitude of research occurring right next door to his undergrad. After graduating from Rice in 2014, he joined the Graduate School's M.D./Ph.D. Program in July of the same year.
"I am fascinated by the unique insights available at the intersection of medicine and research," said Forseth, who thanked his advisor and his fellow M.D./Ph.D. student Meaghan Roy-O'Reilly—a NIH F30 recipient—for their help and support of this achievement.
To learn more about NIH fellowships and other external funding opportunities, please contact our Fellowship and Training Grant Navigator, Kelly Moore, Ph.D., 713-500-9874, or visit our funding external opportunities link here.