Dr. Zhifei Wen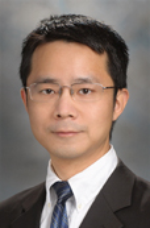 Associate Member
Assistant Professor
The University of Texas MD Anderson Cancer Center
Department of Radiation Physics
Throughout my medical physics career, I have focused on MRI and its applications in the x-ray environment, both in diagnostic radiology and radiation therapy. Working in the department of radiation physics at MD Anderson, a member of the international Elekta MR-Linac consortium, I have been involved in development of quality assurance (QA) procedures specifically for the MR-Linac system. One of my projects is to study how radiation dosimeters can be affected by a strong magnetic field. I am also interested in how the magnetic field affects the radiation treatment plan quality. A well-known effect due to the magnetic field on radiation is the electron return effect (ERE), which is exemplified in low density anatomy such as the lungs. Using a Monte Carlo based treatment planning system (Monaco), I am studying the esophagus as an example site that can benefit from MR-Linac treatment and may be sensitive to the ERE. Preliminary results showed that with the presence of the magnetic field, the Monaco system was able to generate treatment plans comparable to clinical plans. Furthermore, the adaptive plan would allow reduction in dose to the heart throughout treatment, bringing benefit to the patient. This study can potentially expand to other clinical sites.
Besides image guidance for therapy, MRI can be an excellent tool to study tumor and normal organ motion. I was the PI on a grant to develop a 4D MR technique for radiation therapy planning, which sponsored by the Center for Radiation Oncology Research (CROR) in MD Anderson. In the near future, I plan to use MRI to study anatomical motion to improve radiation treatment planning.
As a clinical faculty member, I work on clinical projects to introduce new technologies to the clinic, e.g. commissioning new QA tool and developing new clinical procedures.
Contact Information
Phone: 713.563.2557
Email: zwen@mdanderson.org
Office: MDA FCT8.5014 (Unit 0094)
Education:
Ph.D. - Stanford University - 2005
Programs: