Dr. Russell R. Broaddus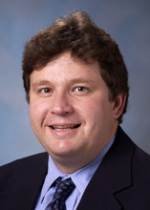 Regular Member
Professor
The University of Texas MD Anderson Cancer Center
Department of Pathology, Anatomical
Our lab is primarily focused on the study of the molecular pathogenesis of endometrial cancer, the most common gynecological cancer in women. Current projects in the lab are examining the molecular differences between aggressive and non-invasive endometrial cancers, gene methylation patterns in endometrial cancer, and the characterization of novel genes important in endometrial cancer. Other projects in our lab are identifying novel molecular biomarkers to help stratify ovarian cancer patients into different treatment and prognostic groups.
Our collaborators include David Loose, Ph.D., and Pete Davies, M.D., Ph.D. (Integrative Biology, UT-Houston Medical School), Michael Blackburn, Ph.D. (UT-Houston Medical School), Karen Lu, M.D. (Gynecologic Oncology, MDACC), and Cheryl Walker, Ph.D. ( MDACC-Science Park).
Depending on the interests of the student, a tutorial in this laboratory would provide experience in tissue culture, DNA and RNA extraction from cell lines, paraffin-embedded tissues, and frozen tissues, PCR, Western blotting, and immunohistochemistry.
Contact Information
Phone: 713.745.2794
Email: rbroaddus@mdanderson.org
Office: MDA B3.4609 (Unit 85)
Education:
M.D./Ph.D. - McGovern Medical School at UTHealth & MD Anderson UTHealth Graduate School - 1994
Programs: