Dr. Zhen Fan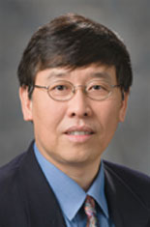 Regular Member
Professor
The University of Texas MD Anderson Cancer Center
Department of Experimental Therapeutics
The research directions in my laboratory are twofold: to develop novel therapeutic agents for targeted cancer therapy (academically affiliated with MD Anderson's Center for Targeted Therapy and the GSBS Experimental Therapeutics Program) and to elucidate novel functions of cancer-related molecules and novel signaling pathways in cancer cells (academically affiliated with MD Anderson's Center for Biological Pathways and the GSBS Cancer Biology Program).
Our laboratory is experienced in utilizing recombinant antibody technology (antibody engineering) to construct and express antibody genes and to produce antibodies in spinner/shaker flasks and in bioreactors. By utilizing cutting-edge technology and innovative strategies to design novel recombinant multifunctional antibodies, we aim to develop second-generation antibodies that are expected to work better than the first-generation antibodies currently used to treat cancer patients. We are also interested in collaborating with chemists to develop novel small molecule anticancer drugs.
Our research in cancer biology focuses on investigating novel cell signaling molecules and pathways that may lead to identification and validation of new targets or new co-targeting strategies for developing innovative cancer treatment. Specifically, we are interested in studying novel roles of signaling molecules (such as Brk, Akt, mTOR, PTEN, LKB1, AMPK, HIF-1α, STATs, etc.) and the pathways downstream to the human epidermal growth factor receptor (HER) family (HER1, HER2, HER3 and HER4) in regulating cancer cell metabolism (i.e., Warburg effect), proliferation, apoptosis or autophagy, epithelial-mesenchymal transition, tumor angiogenesis and metastasis, and cancer cell interaction with tumor stroma cells (such as cancer-associated fibroblasts).
Contact Information
Phone: 713.745.3560
Email: zfan@mdanderson.org
Office: MDA 4SCR2.1037 (Unit 1950)
Education:
M.D. - Shanghai Medical University - 1985
Programs: