Dr. Jing Yang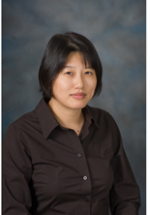 Associate Member
Associate Professor
The University of Texas MD Anderson Cancer Center
Department of Lymphoma and Myeloma
The main research focus of my laboratory is on studying the interaction of tumor cells with bone marrow microenvironment and the pathogenesis of bone destruction in multiple myeloma, and developing the potential therapeutic approaches for myeloma and its associated bone disease.
We investigated the ability of C-reactive protein (CRP), the first acute-phase protein synthesized by hepatocytes and released to microenvironment in response to inflammation and tissue damage, in protecting myeloma cells from chemotherapy drug-induced apoptosis via binding to activating Fcg receptors and mediating anti-apoptotic signaling pathways. Our further studies will extend to examine the active role of CRP in myeloma-induced osteolytic bone destruction.
We demonstrated the contribution of p38 MAPK activation in myeloma cells to osteolytic bone lesions by activating osteoclastogenesis and inhibiting osteoblastogenesis in vivo. Our current studies are working on translating these results into providing better therapeutic targets.
In addition, one of our most compelling findings is developing monoclonal antibodies specific for human beta2 microglobulin and underlying that the antibodies remarkably induce myeloma cell apoptosis. Our results strong suggest the antibodies as a potential, novel therapeutic agent for the treatment of myeloma.
Contact Information
Phone: 713.563.0357
Email: jiyang@mdanderson.org
Office: MDA SCR4.3027 (Unit 903)
Education:
Ph.D. - Xiangya Medical College - 2002
Programs: