Dr. Chantale Bernatchez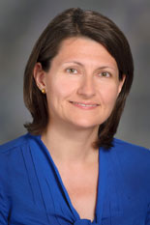 Regular Member
Assistant Professor
The University of Texas MD Anderson Cancer Center
Department of Melanoma Medical Oncology
My main interest is immunotherapy of cancer with a special emphasis on T cell therapy utilizing tumor infiltrating lymphocytes. My lab conducts translational research where human primary cells from cancer patients (tumors or immune cells) are interrogated to find markers of response to T cell therapy or other immunotherapies.
In TIL therapy T cells are grown from melanoma tumor samples (tumor infiltrating lymphocytes or TIL) and expanded to large numbers ex-vivo to be infused back to the patient. Basically the patient is infused with more of his own cancer fighting cells, after a preconditioning lymphodepleting regimen to rid the body of regulatory elements dampening immunity to cancer cells. The therapy has been very successful with a 48% clinical response rate at our institution and others with most of the responses being durable. Despite great results we are at this point investigating why the other half of the patients would not respond. Through molecular and immunological assays we are trying to define biomarkers that could predict response to therapy. These studies will help us define which population of patient is more susceptible to respond to TIL therapy and also will provide insights on how the therapy can be improved.
Another focus of my research is towards process development in order to streamline the complex and time consuming method to expand the T cells ex-vivo. We are hoping to develop an easier and more cost effective T cell manufacturing process in collaboration with the industry with the aim to make commercialization of TIL a viable path. We owe to our patients to optimize ways to disseminate this treatment to the masses of patients needing it.
Contact Information
Phone: 713.563.8830
Email: cbernatchez@mdanderson.org
Office: MDA SCR2.2017 (Unit 904)
Education:
Ph.D. - Laval University, Canada - 2004
Programs: