2 students awarded InterCouncil Academic Scholarships
April 22, 2020
Tracey Barnett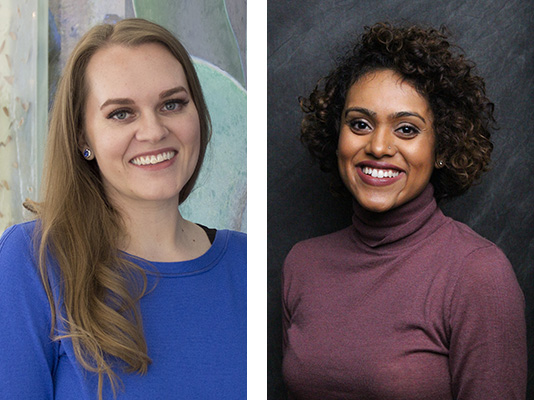 Alexandria Cogdill, left, and Ayesha Khan
Two students from The University of Texas MD Anderson Cancer Center UTHealth Graduate School of Biomedical Sciences received academic scholarships from UTHealth's Student InterCouncil (SIC).
PhD student Alexandria Cogdill is the recipient of the 2019-2020 SIC Academic Scholarship. This scholarship recognizes an individual who has stellar academics and academic achievements. Cogdill is affiliated with the Program in Immunology. Her advisors are Jennifer A. Wargo, MD, and James P. Allison, PhD.
PhD student Ayesha Khan is the recipient of the 2019-2020 Toshi Nikaidoh Service Award. This award for outstanding service recognizes an individual who demonstrates the qualities of passion, drive, selflessness and love for humanity. The award was established in the memory of Hitoshi Christopher Nikaidoh, MD, the SIC president from 2000-2001. Khan is affiliated with the Program in Microbiology and Infectious Diseases. Her advisor is Cesar A. Arias, MD, PhD.
To learn more about the SIC and its purpose and programming, please visit https://www.uth.edu/sic.