Chen, Curran named 2019 Kopchick Research Award recipients
September 19, 2019
Tracey Barnett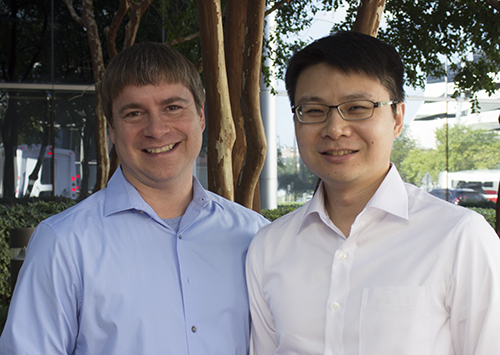 The University of Texas MD Anderson Cancer Center UTHealth Graduate School of Biomedical Sciences student Chao-Hsien Chen, pictured above on the right, and his advisor Michael A. Curran, PhD, pictured above on the left, are the newest recipients of the Dr. John J. Kopchick Research Award. This $50,000 award, which was made possible by a generous gift from GSBS alumnus John J. Kopchick, PhD, and his wife, Charlene, will provide pilot funding for the team's innovative research project.
Alzheimer's disease as well as other related disorders such as frontotemporal dementia (FTD) are characterized by, and likely driven by, the uncontrolled buildup of particularly neurotoxic Tau assemblies or "garbage" in the brain. If left unchecked, these Tau aggregates propagate and accumulate in the brain resulting in death of neurons and cognitive decline. Well-intentioned immune cells in the brain attempt to clear out this trash; however, they are poorly equipped to do so and, in the end, do more harm than good by inciting inflammation that hastens neurodegeneration.
For their project, Chen and Curran have taken a novel approach by taking the knowledge their lab has gained from studying immune-suppressive cells that protect cancers from the immune system, and applying it to functionally re-engineer these brain immune cells to better protect against neurodegeneration. Their research has proven in vitro that re-programmed cells now not only efficiently dispose of the neurotoxic garbage, but also do so with a much lighter touch so as to avoid killing healthy neurons in the process. They are now validating the effectiveness of the re-programmed cells in vivo. It is our hope that introduction of these engineered cells into the central nervous system will protect against functional decline and mediate Tau clearance and associated cognitive improvement in one of the most prominent mouse models of Alzheimer's disease.
Chen is a PhD student affiliated with the GSBS Program in Immunology.
Curran is an associate professor in the Department of Immunology at MD Anderson and is affiliated with the GSBS Program in Immunology.