Cotter to speak at 2019 Microbiology and Molecular Genetics Department Retreat
April 08, 2019
GSBS student Celso S. G. Catumbela
Peggy Cotter, PhD, the keynote speaker for the 2019 Microbiology and Molecular Genetics Retreat, kindly provides us with further insight into her past, present, and future milestones. This interview was conducted by Celso S. G. Catumbela, a 2nd-year PhD student in the laboratory of Charles Darkoh, PhD.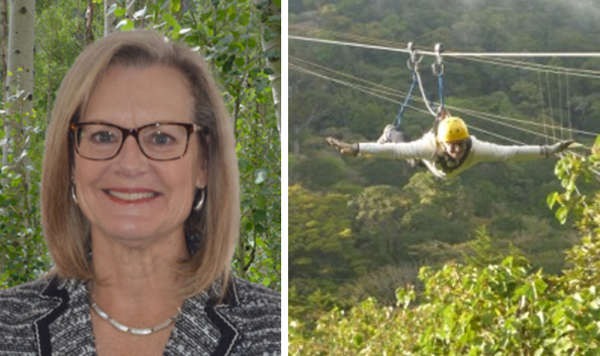 Left: Peggy Cotter, PhD, the biomedical researcher, and, right, Peggy the adventurer zip lining in Costa Rica. "I refused to sit on the bleachers and would instead join my brother and cousin on the field," she said. "I played everything they played. I was always a bit of a tomboy."
Despite our best efforts, all of us are guilty of occasionally looking backwards in time and wishing we had done things differently. However disheartening, this irony should only invigorate us to courageously pursue career and personal milestones. For years, Peggy Cotter, PhD, has boldly examined bacterial pathogens and their ability to cause disease.
Peggy's success stems largely from her belief that all challenges are merely disguised opportunities for growth. And long before becoming a Professor in the Department of Microbiology and Immunology at the University of North Carolina-Chapel Hill, Peggy had been taught these very same lessons by the person she idolizes the most.
"My dad was a big influence growing up. He would have loved to have been a scientist but couldn't afford to go to college," she said. Her father, a native of Chicago and die-hard White Sox and Bears fan, moved the family to California and opened a pizza place with his brother, Peggy's closest uncle.
"You hear that a lot of women in science have a great relationship with their fathers so maybe that was my case," said Peggy, while laughing. (Celso Jr., if you're reading this from the future, now you know why I neglected you over your sister, Ana Obi-Wan Charles Darkoh Catumbela).
"My brother and I worked in the pizza place as kids," she continued. "We folded boxes and just helped however we were told to." Certainly, pizza dough tossing contests would be remembered fondly by anyone, however, the pizza place remains dear to Peggy for more heartwarming reasons.
"I first met my husband, Chris at the pizza place," said Peggy, visibly gushing. "He worked as a delivery boy and after a while we started dating." As Hollywood has hinted to over the years, this should have subjected the delivery boy to an array of comically painful interactions with his employers. However, Peggy laughingly reassures me that, "They loved him. They thought he was a really nice boy."
Blossoming romance aside, Peggy also spent her younger days happily mesmerized by the various puzzles of biology. "I got interested in biology in high school," she said. "I'm still not sure what it was exactly that I liked about it. I just genuinely enjoyed taking it all in."
"I'm the first person in my family to attend a four-year university," she continued. "I discovered my love for microbiology in college but I didn't really do research until graduate school." As an undergrad at the University of California-Los Angeles, Peggy split her time attending classes and working.
"I worked as a waitress, and in my Junior-year found a job at a UCLA clinical lab and worked as a lab assistant," said Peggy. Prior to attaining a BA in Microbiology and Psychobiology from UCLA, Peggy married Chris, the "nice, delivery boy" who would soon become a software engineer. Peggy became a licensed clinical laboratory technologist and worked in the UCLA clinical laboratories for an additional six years after graduation, and as her fascination with the biomedical field grew so did her interest in joining it.
"I always thought I wanted to go to grad school, it was just that I didn't know what research entailed," she said. "I also wasn't aware that I could get paid as a grad student, and once I learned that you could get supported I became even more interested."
"I was geographically challenged, so I basically only applied to UCLA," said Peggy, visibly amused at how drastically that has changed as a result of multiple conferences and speaking engagements. "Surprisingly, my parents were initially unsupportive, because they had no idea how I would be able to pursue grad school. By then I had two kids and they thought it would be a lot of work."
Fortunately, Peggy and Chris would come up with a plan of action to help realize her dream. "My amazing husband supported me and said we'd make it work," she continued. "He started doing the morning routine with the kids because I had to leave early since we lived an hour away from UCLA."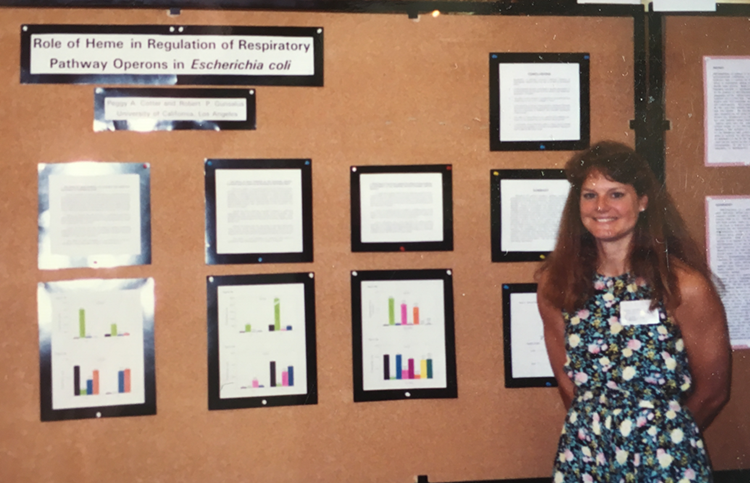 Peggy as a graduate student proudly presenting her poster at an American Society for Microbiology Conference.
Peggy's days as a graduate student were filled with the array of emotions and experiences that many of us can attest to. "I was just so happy to be in grad school and do research," she said. "But there were also times when I would look at my professors and think that there's just no way I could do what they do."
A lifelong racquetball and cycling enthusiast, Peggy quickly developed a grad school routine that included some of her favorite outlets of stress. "I'd go in very early, get cultures started, and then go play racquetball before heading back to lab around 8a.m. when other students were coming in," she said.
Her creative means of anxiety relief certainly worked. And over the years, an increased camaraderie with her peers did wonders for her confidence as a scientist. "Talking to each person in my lab about what they're doing and helping them solve these puzzles helped me realize that it's entirely possible to really stay on top of so many things," said Peggy. "I was starting to really feel growth as a scientist."
Peggy would go on to attain her PhD at UCLA, where she opted to remain as a postdoctoral fellow. Ultimately, she would even garner the coveted position of a mentorship under Jeff Miller, PhD. This environment helped her further develop her already impressive résumé through high-impact publications. Nonetheless, she remained unsure of her own ability to succeed in the next career milestone, a lab of her own.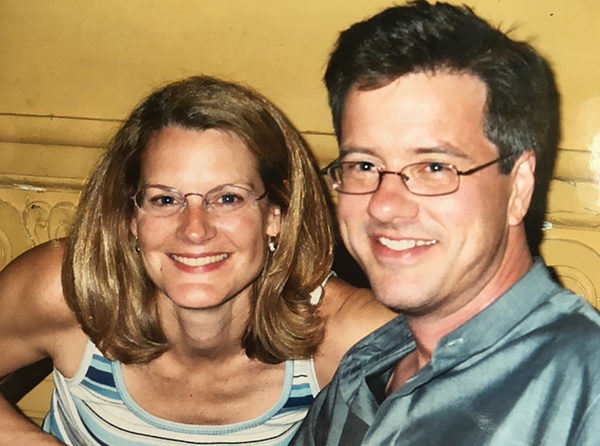 Drs. Peggy Cotter and Jeff Miller.
"I was still not confident that I could go on to have my own lab," she said. "Jeff and I had great synergy and I kept having arguments with myself to justify why I didn't pursue my own lab. Finally, I realized that no one else was asking me these questions and that I had always convinced myself not to do it." The realization that she had been her own biggest obstacle helped Peggy break free of her mental shackles and would spur her pursuit of a new challenge.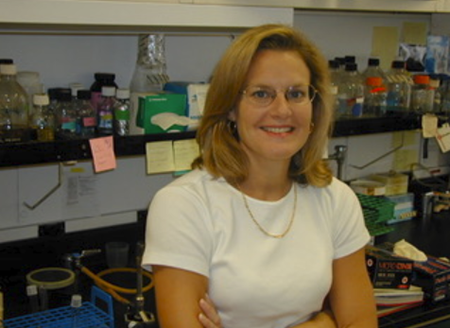 Peggy becomes an assistant professor and takes the helm of her new laboratory.
Peggy's contributions to the understanding of Bordetella and Burkholderia pathogenesis have been immense and are well recognized in the field of infectious diseases. Her lab typically comprises eight to ten individuals, which enables her to experience the joy of overseeing development of the research as well as the researcher.
"There's so much fun and reward in watching people develop and seeing them pursue academia, consulting, and biomedical safety, etc.," said Peggy. "It's my job to support them wherever they wish to go. My goal is to provide them with an environment where they can grow and overcome their own doubts."

The researchers of the Cotter Laboratory.
Peggy's schedule is often filled with ensuring the development of her students, writing grants, and performing her many tasks, which include acting as editor for Molecular Microbiology and as Chair for the NIH Prokaryotic Cell and Molecular Biology study section. Despite this already overwhelming schedule, she continues to find new means of personal growth.
"I got into quilting when I was working as a med tech," said Peggy. "In grad school I put it away due to a lack of time and just five years ago, when my daughter was having her first child I decided to make a baby quilt for her. Since then, I've also been making quilts for her girlfriends who have also been having babies in recent years."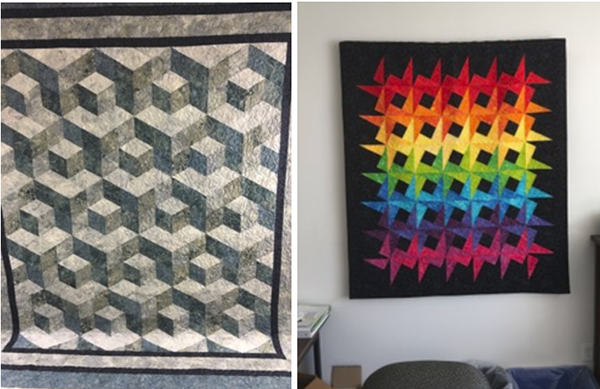 Peggy has recently taken up quilting. "I like to see the geometric patterns emerge as I am putting them together," she said.
Peggy relentlessly pursues novel challenges in and outside of research, and fortunately, is happy to invite students and colleagues along for the ride. Without a doubt, the MMG faculty and students are fortunate to call such an incredible and passionate individual as the keynote speaker of the 2019 MMG Retreat. She looks forward to a wonderful exchange of ideas and the joy of learning more about the MMG family.