Graduate School hosts inaugural Kopchick Symposium
November 18, 2019
Tracey Barnett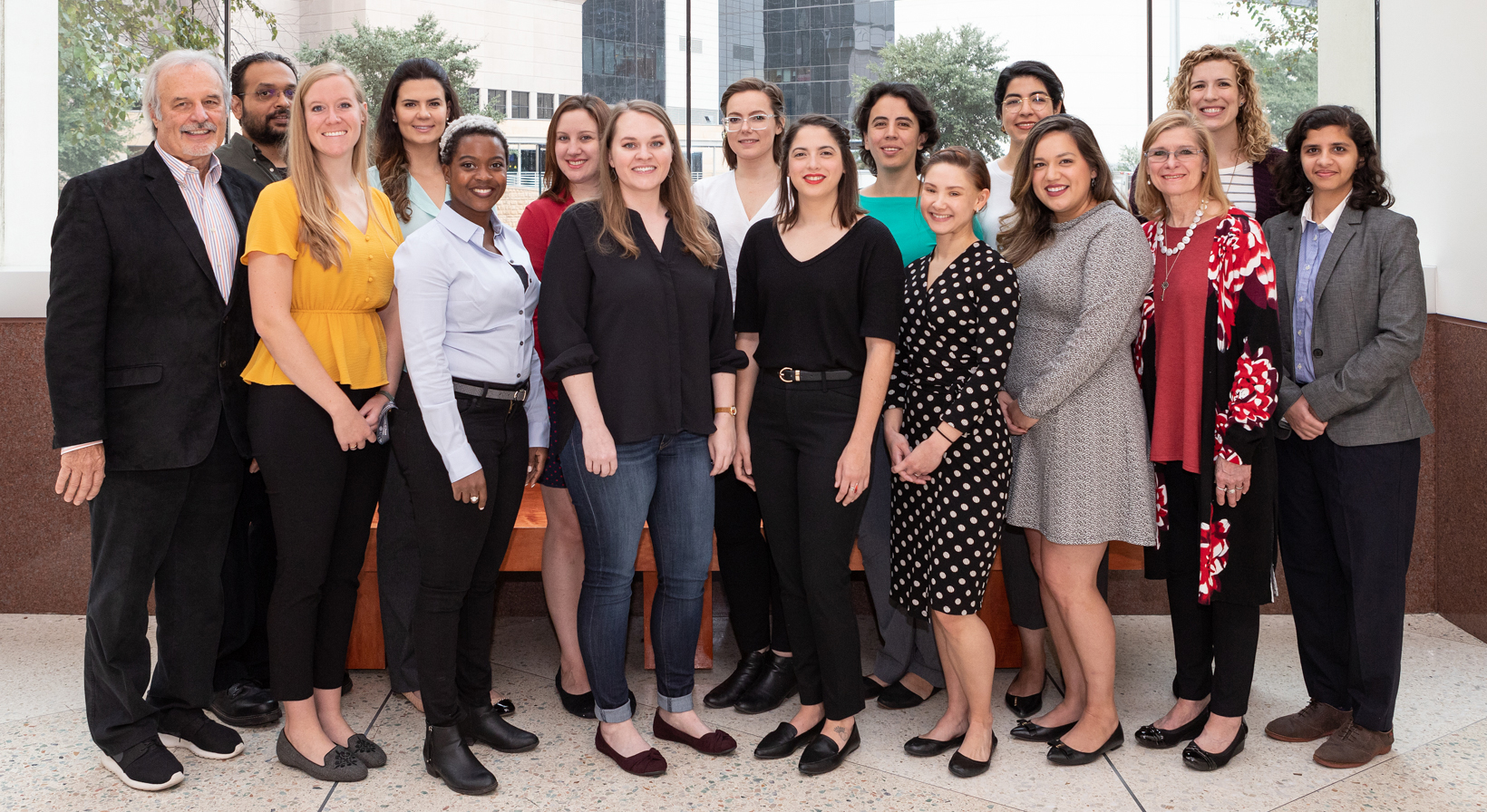 From left to right: John J. Kopchick,PhD, Lalit Patel, Tristen Tellman, Daniela Branco, Alexis Mobley, Rachel Dittmar, Alexandria Cogdill, Sydney Moyer, Elisa Vesely, PhD, Barbara Diaz-Rohrer, Sara Siegel, PhD, Roxsan Manshouri, PhD, Brittany Jewell, Charlene Kopchick, Marisa Aitken, and Natasha Kharas. (Michael Craft Photography)
On Nov. 4, 2019, the Graduate School hosted the inaugural Dr. John J. Kopchick Research Symposium. Organized by the 2018 and 2019 Kopchick Fellows, this first-of-its-kind symposium focused on helping graduate students, young faculty, and other trainees navigate the early stages of their careers. The all-day event featured several presentations, a keynote speech, a panel of young, successful scientists discussing their career paths, and a roundtable lunch where attendees could meet and network with the speakers.
A generous endowment established by alumnus John J. Kopchick, PhD, and his wife, Charlene, funded the event. Its goal: to bring leading scientists to the school to speak about professional development. See photos from the event at go.uth.edu/KopchickSymposium2019
More than 250 people registered for the symposium that kicked off with alumna and Therapeutics and Pharmacology Program faculty member Chandra Bartholomeusz, MD, PhD, and her talk: Navigating the Path to an Academic Career and Early Career Funding Opportunities.
"If you want to make exciting discoveries by testing your hypothesis, you need funding to hire personnel, and buy supplies and equipment," said Bartholomeusz. "Winning grants and fellowships early in your career as a graduate student will show that you have a track record and will set the stage for a successful academic career."
After Bartholomeusz's presentation, Kopchick Fellows Sara Siegel, PhD, a 2018 fall graduate and postdoctoral research assistant at The University of Texas Southwestern Medical Center, and Biochemistry and Cell Biology student Brittany Jewell, shared their early career experiences.
Siegel gave words of advice on how to select the right postdoctoral opportunities, while Jewell discussed lessons she learned starting her research career as a student investigating Rothmund-Thomson syndrome associated osteosarcoma.
Sharing their insight in academia and research, faculty member Nicholas E. Navin, PhD, hosted a presentation about how to turn your passion for research into a lifelong career, and Robert Jenq, MD, talked about his work with neutropenic fever. Navin is affiliated with the Programs in Genetics and Epigenetics and Quantitative Sciences and Jenq is a member of the Programs in Immunology and Microbiology and Infectious Diseases.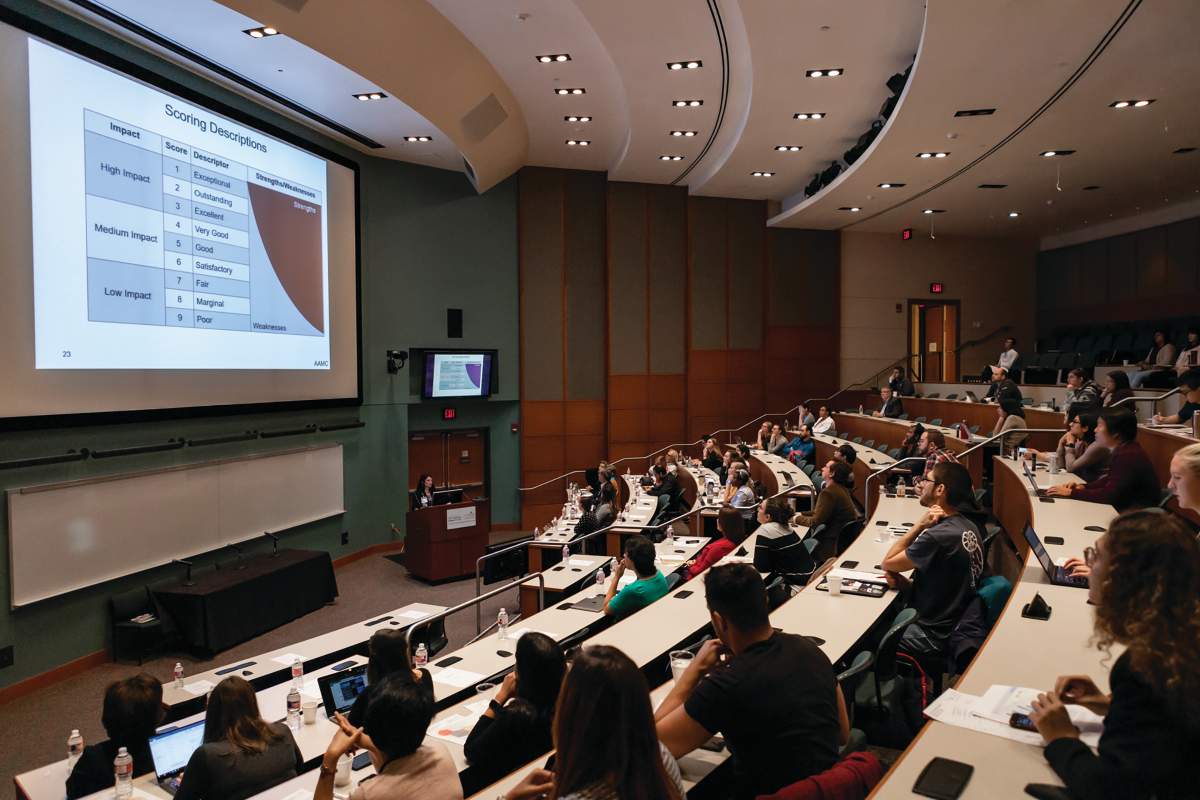 These presentations were followed by a roundtable lunch with some of the experts participating in the Early Career Decision-Making panel. This included: Steven Lott,PhD, alumnus and owner, Lott Consulting; Rachel K. Miller, PhD, faculty member affiliated with the Programs in Biochemistry and Cell Biology, and Genetics and Epigenetics; Jolie Schafer, PhD, alumna and medical science liaison at Kiadis Pharma and Elisa Vesely, PhD, a Kopchick Fellow, 2018 fall graduate, and postdoctoral researcher, Geisel School of Medicine at Dartmouth.Following the networking lunch, experts and patrons gathered in the Onstead Auditorium for the panel.
The panel, moderated by symposium founder, John J. Kopchick, PhD, anchored the afternoon activities and gave attendees the perfect opportunity to delve into the minds of working scientists.
"The common denominator in my career has been relationships, said Lott. "Selecting a job based on the organizational culture is as, or more, important than any other factor."
Continuing the symposium's theme, the 2018 and 2019 Kopchick research awardees, student Pranavi Koppula and her advisor, Boyi Gan, PhD; and student Chao-Hsien (Alex) Chen and his advisor, Michael Curran, PhD, spoke about their projects. These awards provide $50,000 to support pilot funding for each team's innovative research project.
The capstone of the symposium was the keynote speech by Matthew H. Spitzer, PhD, assistant professor, Departments of Otolaryngology, and Microbiology and
Immunology, University of California, San Francisco. His speech, Understanding Immune Responses to Cancer from Single-Cell Data, covered a mix of his lab work and career advice.
"The Kopchick Fellows should be very proud, not only for organizing a terrific meeting, but also for the quality of their research and the community they have created," said Spitzer. "It was a sincere honor to receive their invitation to participate in their inaugural symposium, and the opportunity to meet and discuss with each of them was a real highlight."
The event ended with closing remarks from John Kopchick, PhD, and Charlene Kopchick, and a reception.
"We believe that having students work on a group project with a common goal is a good professional development experience. When these students graduate and are in their scientific careers, they will be called upon to plan similar types of events. So, one can think of this activity as a tutorial or internship in a group project with a mission. Planning and organizing a one-day symposium with a 'high level' outside speaker within an established budget is excellent training." - John and Charlene Kopchick
To learn more about the Kopchicks' gift to the Graduate School, visit go.uth.edu/GSBS-kopchick-gift.