Healthcare Innovation Challenge 2020: Collaboration of UTHealth students from every school
April 09, 2020
Sarah Kaddour, UTHealth Public Affairs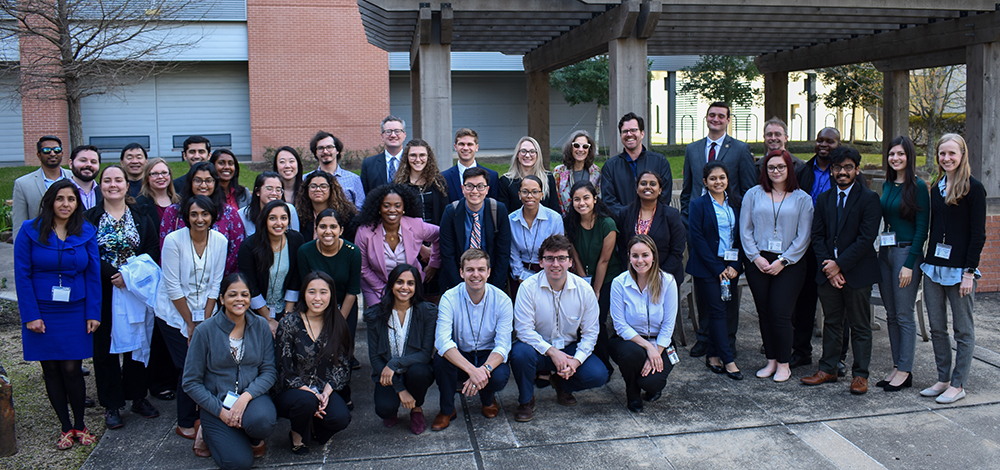 The second annual Healthcare Innovation Challenge (HIC) 2020, funded by all six schools at UTHealth, Student InterCouncil, Office of Technology Management, and McGovern Medical School Student Senate, hosted UTHealth students to collaborate in interdisciplinary teams to solve health care's largest challenges on Feb. 22.
The innovation challenge is a case competition, where groups of students across the UTHealth campus come together to collaboratively brainstorm and present solutions to a presented problem. This year, the students were required to come up with solutions to reduce hospital readmission.
The challenge featured 11 teams of five to six members from the six schools at UTHealth: Cizik School of Nursing, McGovern Medical School, MD Anderson Cancer Center UTHealth Graduate School of Biomedical Sciences, the School of Biomedical Informatics, the School of Dentistry, and the School of Public Health.
The event originated in 2019 as the brainchild of three medical school students: Jeff Woods, Niharika Neela, and Luciano Posada. This year's event was planned and executed by three doctoral students: Boomadevi Narendran from the School of Public Health, and Barbara Nassif and Rachel Van Drunen from MD Anderson UTHealth Graduate School.
"The students experience interprofessional collaboration while fostering skills on how to communicate with one another effectively in a timely manner, utilizing each others' skills to create a proposal, and learning the different priorities and thought processes from each of their peers' professions," said Nassif. "Students realized how challenging it is to work through the analysis of an issue, provide thoughtful solutions, and ultimately agree on a proposal to bring forward as a team."
"Some important challenges the teams faced were how difficult it is to quantify the target population where this issue occurs and how to determine the cost on health care. These practical questions are ones many students have never had to deeply investigate. This competition works to better prepared our students' understanding and overcome hurdles they will encounter as they are trained to become the next leaders in global health care."
The first place winner was Team 7, made up of Caitlynn Barrows, Amber Chen, Joceylin Duarte, Kalaivany Ganesh, Shelby Johnson, and Sharmily Roy. The second place winner was Team 11, made up of Alejandra Aviles, Ankitha Gangarapu, Anamika Khosla, Anh Trinh Nguyen, Nikitha Samy, and Adolph Trudeau. The third place winner was Team 1, made up of Medina Colic, Jyotsna Kottoor, Vi Ly, and Jackson Valencia. The people's choice award winner was Team 4, made up of Nour Alia, Anik Banerjee, Paul Emeonyi, and Swati Mohapatra.
Valencia, second-year School of Dentistry student, recognized the value in collaborating with fellow UTHealth students. "HIC was an opportunity to better understand other health care fields and to engage in problem solving," said Valencia. "I particularly enjoyed my brilliant and thoughtful group members."
As part of the competition, each team had three weeks prior to the event to introduce themselves, review the case, conduct research, and formulate a plan to address the problem. The day of the challenge, each team presented to a panel of mentors, who then provided feedback to the team directly before independently ranking each presentation. Mentor groups consisted of six practicing medical professionals, most being faculty members from UTHealth, who evaluated each team's solution using a numerical or ranking system.
"Being part of the UTHealth community, I am embracing the opportunities and context of health here in the Texas Medical Center and the role we play as future leaders and innovators. The HIC event was an opportunity to collaborate with others from different parts of UTHealth," said Roy, doctoral graduate student at the School of Public Health. "I knew taking part in HIC could allow me an opportunity to expound on ideas and potentials in the health systems and public health."
There were two rounds in the competition, with two panels of judges for each round. In the first round, the teams competed in groups of three to four teams, in which the top team from each group moved on to the second round. The top three teams presented before an audience in the second round. In addition, all 11 teams participated in an elevator speech style competition where one member of the team had to pitch in their idea in less than 90 seconds.
"I was lucky to be in a team filled with brilliant minds. I was not sure what an all-day event like this could entail. I learned the strengths of each participant on my team, their individual qualities and perspectives, and the knowledge they brought from their area of disciplines," Roy said. "The HIC leadership was also supportive and encouraging in organizing workshops in areas such as economic evaluation and generally being available as coaches to strengthen the team's proposals."
The goal of this event was for each participant to be intellectually challenged by working on real issues and challenges, to receive mentorship from health care professionals, and to strengthen their interprofessional network.
"I've always been interested in health care management and policy, but never really found the time or outlet to pursue it in medical school. Then, I discovered the Healthcare Innovation Challenge," said Chen, second-year McGovern Medical School student. "I thought this would be the perfect opportunity to dive back into health care issues, and was thrilled that the topic for my team was on hospital readmissions, a growing problem that needs to be addressed. Through this experience, my team and I learned more about the complexities of the health care system as a whole."
"My first thought was that there are so many different ways to approach the topic, so I was glad to be paired up with other students from the various UTHealth professional schools," said Chen. "One of my favorite takeaways from HIC was the invaluable friendships that I might not have formed otherwise."
This year's first place team proposed a two-part comprehensive program called "Houston's Readmission Elimination Initiative" to reduce hospital readmissions for Medicare patients with chronic conditions. The first part uses "Discharge Education" to teach hospitals how to effectively discharge patients and ensure patients and their primary care providers understand their treatment plan. The second part uses "Chronic Condition Monitoring Program," which is a proactive measure to ensure patients stay on top of their discharge and follow-up health.
This year's second place team proposed a "Hospital to Home Health" program as a pilot intervention to address the heart failure and pneumonia readmission rates at Houston Methodist, a not-for-profit hospital in the Texas Medical Center.
On average, 18% of the heart failure and pneumonia cases seen at Houston Methodist under Medicare return within 30 days for readmission. The program proposed to target those patients admitted for heart failure or pneumonia who, prior to their discharge, are identified as high-risk based on factors such as age, socioeconomic status, vital signs, and multiple comorbidities.
This year's third place team proposed "The Bridge Project" to address hospital readmission risk factors, using existing resources such as risk score to identify the level of care needed after discharge, the utilization of psychiatric care as needed using psychosocial risk assessment to identify barriers to care, and then completion of a hands-on assessment. The identified risk factors were incorporated into discharge plans. The plans assess risk factors specifically for readmission and provide needed referrals early on. The patient has a home telemonitoring device that will allow their health care providers to address current health status, manage medication, and to reassure the patient.
"I really enjoyed the Healthcare Innovation Challenge and I chose to participate because I wanted to understand how health care innovations are achieved by working with people from different fields and backgrounds. Everyone in our group brought a unique perspective and way of approaching a problem, which allowed us to create a solution to reduce hospital readmissions," said Barrows, graduate student at MD Anderson UTHealth Graduate School. "HIC taught me how to communicate more effectively with others outside my field and gave me a better understanding of what makes a solution viable and worth the investment."
Two judges from the UTHealth Office of Technology Management – Bruce Butler, PhD, Vice President of Research and Technology; and Christine Flynn, PhD, Associate Director of Licensing and New Venture Development – advised students from a technology standpoint and encouraged them to utilize the technology, groups, and resources available at UTHealth to take the next steps in pursuing their ideas and having them come to fruition.
Kaz Nelson, MD, from the University of Minnesota Medical School, spoke on ethics and interprofessionalism in innovation.
"I would recommend participating in the competition to anyone, as a career and personal development endeavor," said Roy.
The Healthcare Innovation Challenge is held annually. Interested students can visit the challenge's website and be on the lookout for announcements through social channels: LinkedIn, Facebook, and Instagram. You can also see photos from this year's event here.
If you are interested in participating in or organizing next year's challenge, email hic.uth.tmc@gmail.com.
For more information on interprofessional education at UTHealth, contact Program Manager Stephen Jones at 713-500-5199 or Stephen.W.Jones@uth.tmc.edu.