Henson, Singletary recognized by UT System Board of Regents for excellence in teaching
December 06, 2021
Faith Harper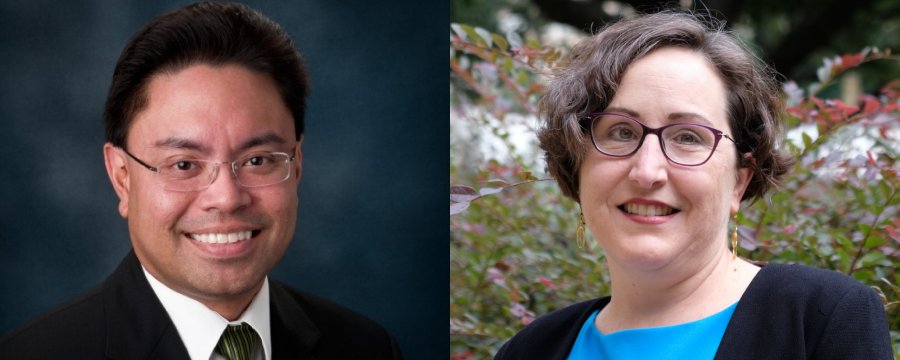 Two UTHealth Houston educators have been awarded the prestigious Regents Outstanding Teaching Award.
Harold Alonso Henson, RDH, PhD, and Claire Narvaez Singletary, MS, CGC, were among the 14 recipients of The University of Texas System Board of Regents' Outstanding Teaching Award for 2021.
Henson is associate professor at UTHealth Houston School of Dentistry and director of the Center for Teaching and Learning. Singletary was nominated for her work as the director of the Genetic Counseling Program at MD Anderson Cancer Center UTHealth Graduate School of Biomedical Sciences. She is also a professor in the Departments of Pediatrics and Obstetrics, Gynecology, and Reproductive Sciences at McGovern Medical School at UTHealth Houston.
The outstanding teaching award is given annually by the UT System Board of Regents to highlight exceptional teachers across UT System's academic and health institutions. Awardees undergo a series of rigorous evaluations by students, peer faculty, and external reviewers. The review panels consider a range of activities and criteria in their evaluations of a candidate's teaching performance, including classroom expertise, curricula quality, innovative course development, and student learning outcomes.
"The best way to ensure students get the full promise of a UT degree is to provide them with outstanding faculty," said Board of Regents Chair Kevin P. Eltife. "On behalf of the Board of Regents, I extend our profound appreciation to these educators for their commitment to teaching excellence and passion for serving students."
Harold Alonso Henson, RDH, PhD
Henson has been a valued member of the faculty at the School of Dentistry for more than 20 years, where he has taught at all levels of curriculum: graduate, predoctoral, and undergraduate. He has received 13 teaching awards, including the 2017 Texas Dental Hygiene Directors' Association Teaching Excellence Award. Henson is recognized nationally and internationally for teaching excellence, as evidenced by his long list of teaching scholarship products, educational collaborations, educational consult services, and educational leadership awards.

"I am truly honored and humbled in receiving the 2021 Regents Outstanding Teaching Award," Henson said. "I want to thank my colleagues and students who have made this a very special moment in my teaching career. As I reflect on this achievement, I share this quote from Dr. Martin Luther King Jr., 'The function of education is to teach one to think intensively and to think critically. Intelligence plus character — that is the goal of true education.'"
In his nomination letter to the Board of Regents, Giuseppe N. Colasurdo, MD, UTHealth Houston president and Alkek-Williams Distinguished Chair, described Henson as "a transformative force in dental hygiene education".
Colasurdo highlighted Henson's efforts in developing and incorporating simulation and virtual teaching tools into the school's curricula, and described him as a driving force in distance education by adopting multiple software platforms and venues to provide high-quality online learning experiences. This work provided the framework for pivoting to online instruction at the beginning of the COVID-19 pandemic.
Henson is also a "teacher's teacher" who focuses considerable time on mentoring faculty and community practitioners to better serve learners with modern and effective practices. He serves as co-director of the university-wide Health Educators Fellowship Program.
"Dr. Henson has brought a level of enthusiasm and professionalism that has had a considerable impact on students, residents, faculty, and patients at the UTHealth School of Dentistry," Colasurdo wrote. "We are fortunate to have Dr. Henson on our faculty."
Claire Narvaez Singletary, MS, CGC
Singletary has led the Genetic Counseling Program at the graduate school for 15 years. The program has produced over 165 students and thrived under her leadership. As the director, Singletary not only administers the program, she steers curriculum development, mentors genetic counseling students, delivers lectures, supervises students on rotation, and sits on thesis committees. In addition to her commitment to genetic counseling education, she remains passionate about practicing the art of prenatal genetic counseling.
"I am extremely appreciative of the support that the President's office, MD Anderson UTHealth Graduate School of Biomedical Sciences, and McGovern Medical School provide to the Genetic Counseling Program," Singletary said. "I am grateful to be at an institution that values its genetic counselors and has allowed me to thrive as a faculty member. Teaching and mentoring students is the aspect of my career that brings me the most joy, and I cannot think of a higher honor than to be recognized as an outstanding teacher by UT System."
In his nomination letter, Colasurdo said the program's success can be attributed to Singletary, who took the helm as director in 2006. She oversaw restructuring the curriculum and designed new teaching materials and courses. Students in the program have an excellent first-time pass rate on board exams, a testament to the quality of instruction offered in the program.
"Professor Singletary has been a pioneer in bringing technology into the genetic counseling curriculum, moving nearly all course materials online, providing iPads to all program students as learning tools, and incorporating standardized patients and flipped classroom modalities," Colasurdo wrote to the Board of Regents.
Singletary takes the success of her students personally. She led a complete pivot to online instruction and clinical rotations in the early days of the COVID-19 pandemic, and aggressively acquired PPE to help students safely interact with patients when necessary and appropriate.
"Professor Singletary is a consummate educational leader known for actively engaging students in their learning and beyond," Colasurdo wrote. "I cannot imagine our Genetic Counseling Program achieving its success without (her leadership)."
The Regents' Outstanding Teaching Awards reinforce the Board of Regents' commitment to ensuring that UT System institutions are places of intellectual exploration and discovery, educational excellence, and unparalleled opportunity.
"I'm delighted we are able to recognize these exceptional educators who are so committed to engaging, teaching, and supporting their students," Chancellor James B. Milliken said. "I'm grateful to the Board of Regents for recognizing their impact on our students and our campuses."
Since creating the awards program in 2008, the board has presented more than $20 million to more than 750 outstanding educators. Read about this years' awardees as well as past awardees on the UT System website.