In memoriam: Henry W. Strobel, PhD
November 25, 2019
Office of Communications, McGovern Medical School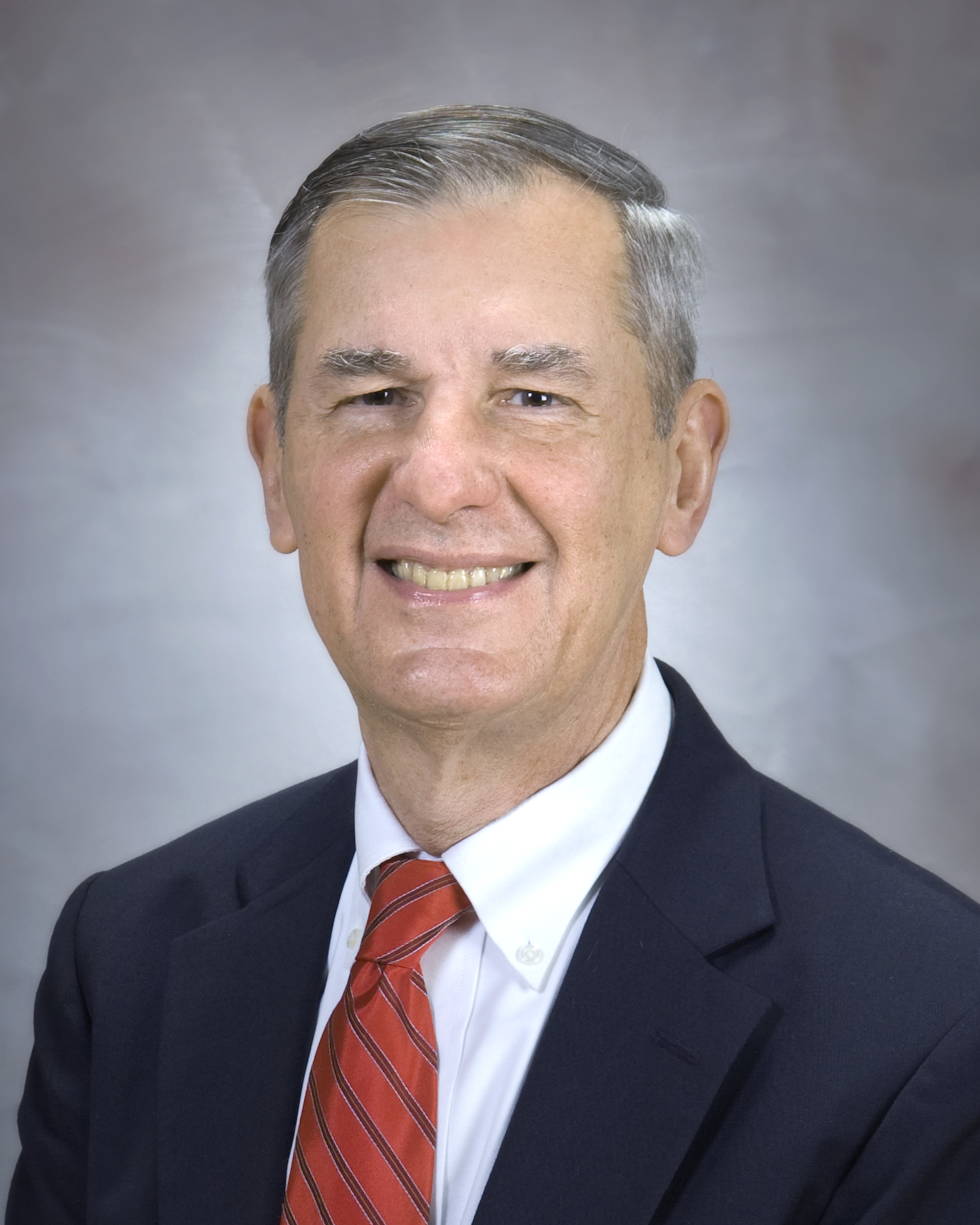 Beloved Graduate School and biochemistry faculty member, founder of the McGovern Medical student retreat, and inaugural associate dean of faculty affairs Henry W. Strobel, PhD, 76, died in his sleep Friday, Nov. 22, 2019, in Houston.
An original faculty member of the newly established University of Texas Medical School at Houston, Strobel joined the faculty as an assistant professor of biochemistry and molecular biology in 1972. At that time, he also joined the Graduate School's faculty. He rose up through the faculty ranks — named professor in 1982, serving as acting chair of the department in 1984. He was named professor emeritus at the GSBS in 2015 and the medical school in 2014.
"Henry was an icon of our school," said Michael Blackburn, PhD, GSBS dean and executive vice president and chief academic officer of UTHealth. "His amazing contributions reach far and wide, impacting students, faculty, and staff. He was a great mentor and friend and will be missed by many."
Strobel earned his bachelors of science degree from the College of Charleston and went on to earn a PhD in biochemistry from the University of North Carolina at Chapel Hill, where he also completed a postdoctoral fellowship.
In addition to his faculty roles, Strobel served the medical school in numerous administrative capacities and made an indelible mark upon the school's culture and traditions by establishing a student orientation retreat and an international elective to China.
In August 1977, Strobel helped organize the first freshman orientation retreat at Camp Allen, bringing students and faculty together, setting the tone for the incoming students of the medical school. That annual event has become a rite of passage for McGovern Medical School students, establishing values and kindling friendships.
"Nobody, in the history of our incredible institution, lived the character we all hope to aspire to more than Henry. He was an energetic educator, a steady mentor, a thoughtful leader, a patient listener, a meticulous scientist, and, above all, a remarkable and compassionate friend who taught all those around him how important relationships were. His relentless pursuit of humanism and his vibrant spirit will forever live in the McGovern halls, while his knack for welcoming new members into our institution will forever live at Camp Allen," said Matt Harting, MD, '03, assistant professor of pediatric surgery.
In 2006, the medical school's Alumni Association created the Henry W. Strobel Ph.D. Freshman Retreat Fund to help underwrite the costs of future retreats. "The retreat was Henry's idea from the start," said Alan Friedman, MD, '86, past president of the Alumni Association. "Without him, there never would have been one."
In addition to leading the student retreat for 40 years, Strobel also established a China elective program in which he chaperoned medical students for a one-month trip to China to learn from the Chinese medical community through its schools and hospitals. Strobel directed the annual elective for more than 30 years.
"He was just a great man. I kind of think of Dr. Strobel as Mr. Rogers – thoughtful, kind, thinking of other people, just trying to make other people's lives better. He always cared for the medical students and brought kindness to the school," said Joel Dunnington, MD, '81.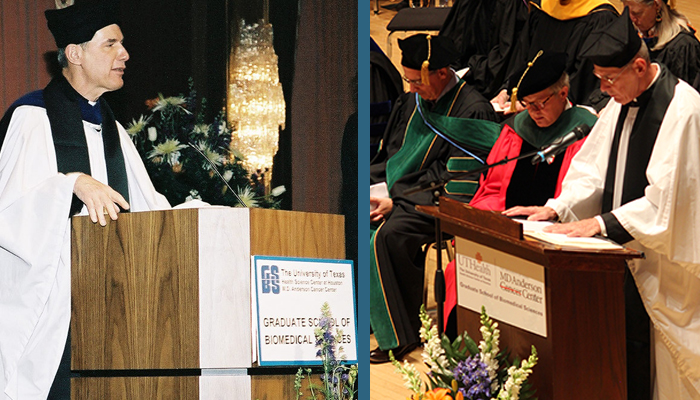 An ordained Episcopal priest (known by some former students as Father Doctor Strobel), he was called upon to give invocations at traditional school events. In the pictures above, Strobel is seen performing the invocation and benediction at the 2002 and 2014 GSBS graduations.

Strobel also was the medical school's first associate dean for faculty affairs after having served as chair of the Faculty Promotions Committee for a number of years. "It was clear from the promotion documents that many faculty did not know how to prepare for promotion," he wrote. "I complained to the Dean, and the Dean retaliated by appointing me as the first Associate Dean for Faculty Affairs."
Strobel also was the medical school's assistant dean for student affairs, 1991-95, and associate dean for alumni affairs, 2009-2015.
An ordained Episcopal priest (known by some former students as Father Doctor Strobel), he was called upon to give invocations at traditional school events – from commencement and white coat ceremony to faculty promotion dinners and memorial services. He even was invited to perform marriage ceremonies between students.
"In addition to being a teacher, Dr. Strobel generously served as a leader, coach, and confidant for hundreds of students, faculty, administrators, and staff during his 40+ years at UT-Houston," said Faye Viola, former director of the Office of Faculty Affairs. "He was a Southern gentleman and an energetic and positive spirit who loved to recognize and celebrate the success of others. He will be missed."
He was the recipient of numerous awards for his teaching, including the UTHealth President's Scholar Award for Excellence in Teaching; the TIAA-CREF Distinguished Medical Educator Award; membership to The University of Texas Academy of Health Science Education; The University of Texas System Regent's Outstanding Teaching Award; The University of Texas System Distinguished Teaching Professor; and the John P. McGovern Outstanding Teaching Award, from the Graduate School of Biomedical Sciences.
Strobel once wrote: "As I reflect on my life/career, I think that the things I enjoyed and enjoy the most are those opportunities and activities that facilitate the ability of others to give the gifts they have and to be the persons they are. There have been many such opportunities for me at the university level and beyond, and I am thankful for them all."
A memorial service is scheduled for 11 a.m. Wednesday, Dec. 4 at Palmer Memorial Episcopal Church. In lieu of flowers, the family requests donations be directed to the Henry Strobel Freshman Retreat Endowment: https://giving.uth.edu/memorial
Click here to view a photo gallery of Strobel's legacy at UTHealth.
A memorial service at McGovern Medical School will be planned.