In memoriam: MD/PhD student Deborah Silverman
December 06, 2022
Gillian Kruse/ MD Anderson Cancer Center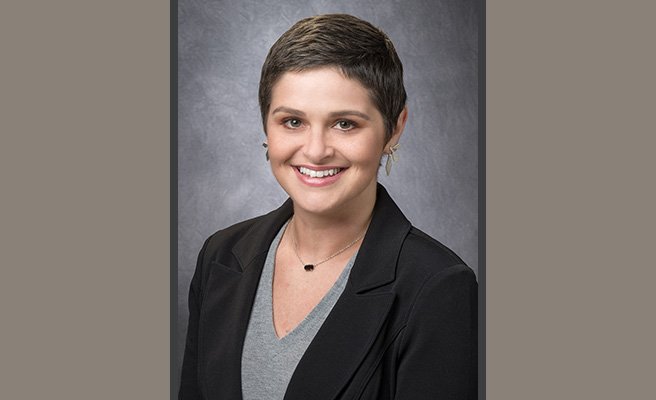 Deborah Silverman, PhD, a graduate student affiliated with MD/PhD and Immunology programs, passed away Nov. 19. She's remembered as a passionate scholar with a brilliant mind who had a bright future as a physician-scientist and who was a positive force for her community. Silverman was 32.
Silverman joined the program in 2013 and immediately made an impact on her fellow students and program faculty.
"Students in our program are here for eight years, so it's critical to have a community to support each other," says Dianna Milewicz, MD, PhD, director of the MD/PhD program. "Deb was the ideal person in our community to help keep people connected. She was just fun to be around, and her positive outlook and excitement about science and being a physician scientist was contagious."
Mikayla Waters, a fellow student in the MD./PhD program, agrees.
"She was everybody's friend, cheerleader, and problem solver," Waters says. "She was the heart of our program."
Her personality drew people to her, say those who worked with her, and she was known for her enthusiasm for learning and scientific research.
"Deb was an incredibly bright and hardworking student in our MD/PhD program," recalls Wendy Woodward, MD, PhD, a GSBS faculty member and professor, Radiation Oncology, MD Anderson. "She was focused on making progress towards her degrees and was able to publish her work and get her Ph.D. this fall, an amazing accomplishment."
George Calin, MD, PhD, who supervised Silverman in his lab over the last year and a half, agrees."She was strong like a rock and completely focused on her work and graduating with her PhD," the professor of Translational Molecular Pathology at MD Anderson and MD/PhD program co-director says. "Deb was the driving force behind a project studying the role of interactions between neurons and immune cells in the tumor microenvironment, and throughout everything her mind was focused on research and making discoveries."
Silverman's passion for science was evident in all her work, and many of her achievements during her schooling reflect that.
"Deb was a superstar in the making," says Bill Mattox, PhD, senior associate dean of the graduate school.
She was the recipient of a grant from the Cullen Foundation and one of the 2020 John J. Kopchick Fellows at the graduate school. Additionally, she received a F30 grant from the NIH to explore groundbreaking research in T-cell cancer immunotherapy. Among her numerous publications was a featured cover story in the high-impact journal Nature. Her love of science extended to sharing her knowledge and excitement over the discovery process with others, even those who didn't have a medical or scientific background.
Fellow students and others she interacted with were also touched by her genuine kindness and interest in supporting those around her.
"Deb spent the last decade training to be a physician scientist fighting cancer with immunotherapy, and she inspired my own journey into studying tumor immunology and interest in MD Anderson's MD/PhD program," recalls fellow MD/PhD student Renato Guerrieri. "But most of all she was a fierce friend and support system through any academic or personal hurdle that came my way."
All those who knew her will miss her bright spirit and determination, and those who worked with her in the program know their lives were enriched because she was a part of it.
"Deb is an inspiration to so many," says Guerrieri. "We are all better for knowing her."