PhD student Cogdill receives Fulbright Scholarship
May 03, 2019
Tracey Barnett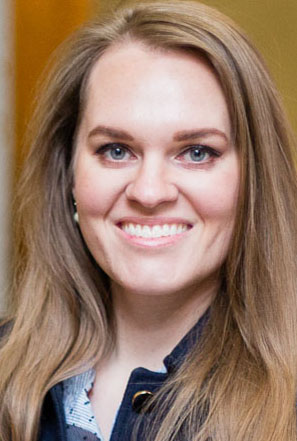 The University of Texas MD Anderson Cancer Center UTHealth Graduate School of Biomedical Sciences PhD student Alexandria Cogdill was recently named a recipient of a Fulbright U.S. Student Research Award. With this award, she will continue her dissertation work, which investigates how gut microbiome influences patient response to immunotherapy, as a Fulbright Fellow in Paris from October 2019 to June 2020. She is affiliated with the Immunology Program. Her advisors are Jennifer Wargo, MD, and James Allison, PhD.
"The Fulbright [Award] is going to be a once-in-a-lifetime experience for me, providing an opportunity for tremendous personal and professional growth," said Cogdill. "This is the first time I will study abroad, and to have this first international experience be as a Fulbright Fellow in Paris, and as a PhD student at the GSBS, makes me feel incredibly fortunate. Ça représente beaucoup pour moi—it means a great deal to me."
Immense progress has been made in the treatment of cancer via immunotherapy, affording robust treatment choices for patients previously thought to have an untreatable disease. Despite these advances, a significant proportion of patients do not respond to immunotherapy and there is a critical need to understand why, and to identify ways to enhance responses to treatment.
An area that warrants further investigation is the microbiome. The human body has a large number of bacteria, and there is growing evidence that they play an important role in health and disease. Recent work has discovered the impact of gut microbiota on patient response to systemic anticancer therapeutics.
In her research work at the Graduate School, Cogdill is working to unveil unifying mechanisms of host microbial interactions that govern response and resistance to immune checkpoint blockade. She anticipates that the insights gained with this work will have broad applicability across multiple cancer types.
Along with the Fulbright Award, Cogdill has also received several Graduate School accolades including the R.W. Butcher Achievement Award (2017-2018), an American Legion Auxiliary Fellowship in Cancer Research (2018-2019), and the Dr. John J. Kopchick Fellowship (2019).
In Paris, her advisor will be Laurence Zitvogel, MD, PhD, and her work will be done in affiliation with the Gustave Roussy Institut Cancer Campus Grand Paris, the Institut Nationalde la Santé et de la Recherche Medicale (INSERM), and the University of Paris.
In addition to her research as a Fulbright Fellow, Cogdill will be volunteering with the Living Better with Cancer program at the Gustave Roussy Institut Cancer Campus. She has also enrolled in French culinary classes at Le Cordon Bleu to explore French cooking, which connects well with her research on the gut microbiome.
The Fulbright U.S. Student Program is the largest U.S. exchange program offering opportunities for students and young professionals to undertake international graduate study, advanced research, university teaching, and primary and secondary school teaching worldwide. The program currently awards approximately 2,000 grants annually in all fields of study, and operates in more than 140 countries..