Student Cassidy's first-author paper published on the cover of Science Advances
March 20, 2019
Tracey Barnett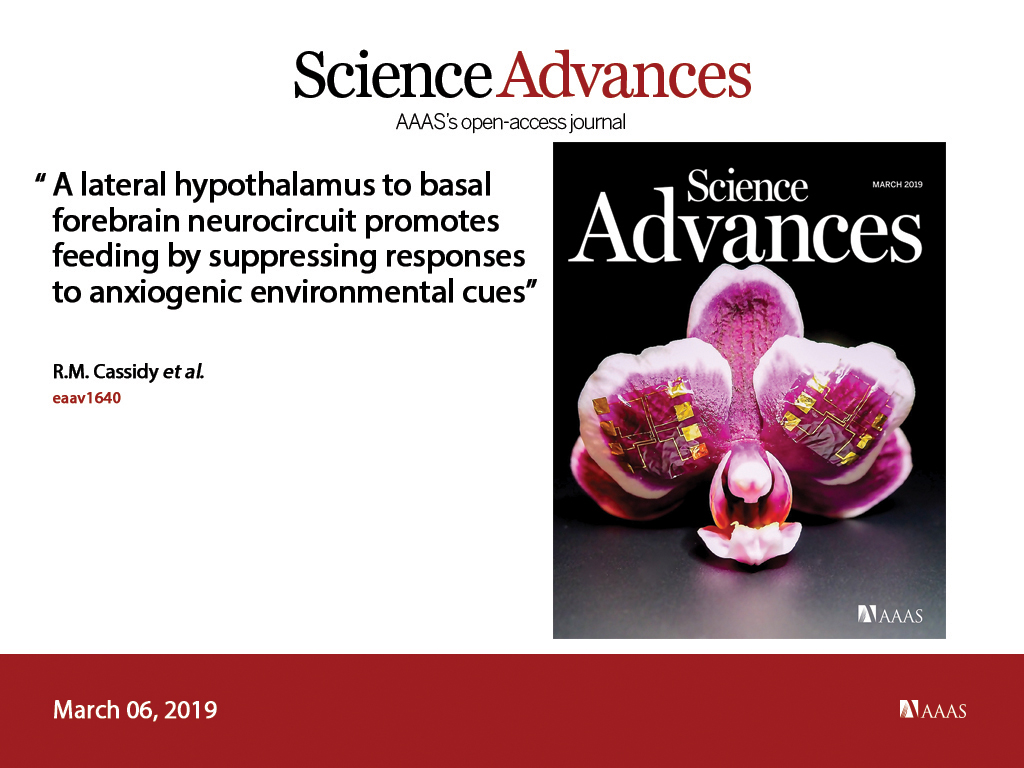 The University of Texas MD Anderson Cancer Center UTHealth Graduate School of Biomedical Sciences student Ryan Cassidy had his first-author paper, A lateral hypothalamus to basal forebrain neurocircuit promotes feeding by suppressing responses to anxiogenic environmental cues, published on the cover of the journal Science Advances on March 6. Cassidy is affiliated with the M.D./Ph.D. and Neuroscience Programs. His advisor is Qingchun Tong, Ph.D.
"A major portion of my thesis project is encapsulated in this paper; going through the review process has helped me refine my science," said Cassidy. "While it is without question that there are many other neurocircuits underlying the connection between hunger and anxiety, I feel lucky to contribute this information to the scientific literature."
While we intuitively understand that our emotions affect feeling hungry, the act of eating, and feeling full, it is not clear what parts of the brain are responsible for this connection. Finding the link is important to fully understand multiple psychiatric diseases, including the connection between dysregulated eating behaviors and emotion, especially anxiety. Typical depression, selective eating disorder, and anorexia nervosa all tightly correlate elevated levels of anxiety and reduced eating. Conversely, binge eating disorder correlates with elevated levels of anxiety and increased consumption. In fact, most psychotropic drugs, which reduce anxiety, also increase appetite.
The work culminating in this paper demonstrates, for the first time, that a neurocircuit connecting the lateral hypothalamus (LH) to the basal forebrain (BF) may underlie this link. In the lab, our research showed that the LH inhibits the BF using GABA, which activates this circuit, making mice eat. Mice prefer activation of the circuit to eating, even when hungry. In addition, the activation of the circuit reduced the signs of anxiety in mice. The work also found that the BF is sensitive to anxiety-provoking circumstances and that diazepam, an anti-anxiety drug, reduces BF activity and makes mice eat.
The lab's goal is that studies like these, which outline the basic hunger and emotional neurocircuitry of the brain, will provide a solid basis for the development of novel therapeutic interventions that can target these systems.
"This work has also given me a unique view on how the brain integrates emotions, said Cassidy. "As an M.D./Ph.D. student going into psychiatry for residency, I think deeply understanding these neurocircuits will improve my ability to practice and translate these basic science findings to humans in the future."
"I am extremely grateful to my P.I., Dr. Tong," said Cassidy. "It is because of his great mentorship that I was able to take this project from the first data, demonstrating circuit activation, to first submission. We have had many fun and engaging conversations about this project, which lead to some very creative experimental approaches used in this paper."
GSBS alumna Leandra R. Mangieri, Ph.D., who is a postdoctoral fellow Washington University School of Medicine, also contributed to this research.