Tellman named 2020 UTHealth CPRIT predoctoral fellowship
July 17, 2020
Tracey Barnett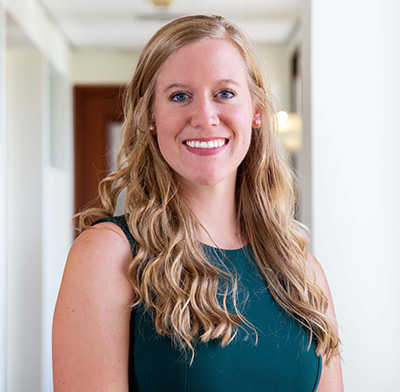 The University of Texas MD Anderson Cancer Center UTHealth Graduate School of Biomedical Sciences PhD student Tristen Tellman was appointed a predoctoral fellow to the UTHealth Cancer Prevention and Research Institute of Texas (CPRIT) Innovation in Cancer Prevention Research Training Program. Tellman is affiliated with the GSBS Program in Biochemistry and Cell Biology and her advisor is Mary (Cindy) Farach-Carson, PhD.
The program recruits scholars from diverse disciplines to ask the important research questions, apply the tools of innovative thinking and cutting edge methods, engage in trans-disciplinary teams and move the field of cancer forward in big – not baby steps.
In the lab, Tellman studies how the extracellular matrix, most specifically perlecan, interacts with receptors at the prostate cancer cell surface to either promote or prevent metastasis to bone. With this knowledge, she hopes to identify new targets for tertiary prevention in highly aggressive prostatic disease.
In her time at UTHealth, Tellman has been involved in several leadership positions, most recently serving as President for the UTHealth Student InterCouncil.
"I am most excited about the potential for interdisciplinary conversations and collaborations with other fellows in the program," said Tellman. "Prevention can occur at many stages, and while we focus in our lab on understanding targets for tertiary prevention, having conversations about primary and secondary mechanisms for cancer prevention can shape the way we approach the disease."