UTHealth commencement ceremonies begin May 15
May 10, 2019
Office of Public Affairs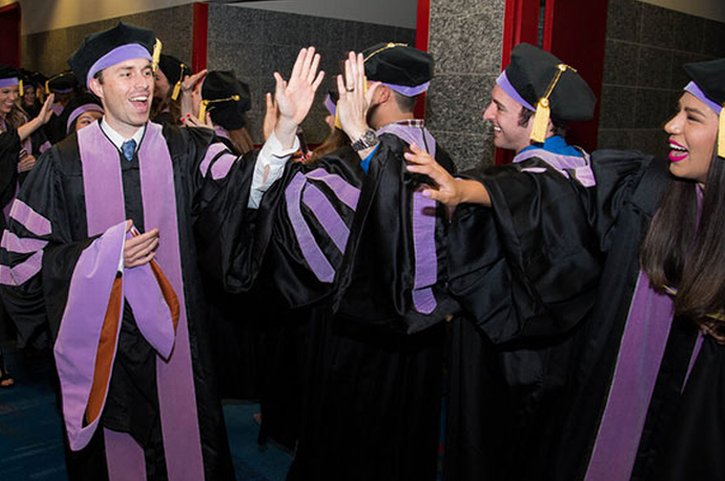 A brigadier general, the Rice University provost and a Texas state commissioner are among the health leaders who will address students, faculty, staff, and guests when The University of Texas Health Science Center at Houston (UTHealth) holds 2019 commencement ceremonies.
Across UTHealth's six schools, 1,807 students will participate in commencement celebrations.
This year's speakers include Brigadier General Shan K. Bagby, DMD, chief of the U.S. Army Dental Corps; Marie Lynn Miranda, PhD, Howard R. Hughes Provost and professor of statistics at Rice University; Courtney N. Phillips, PhD, executive commissioner for Texas Health and Human Services; Ernest J. Grant, PhD, RN, 36th president of the American Nurses Association; Rita Charon, MD, PhD, Columbia University professor of medicine; and Peter WT Pisters, MD, MHCM, president of The University of Texas MD Anderson Cancer Center.
UTHealth School of Biomedical Informatics
Miranda is the keynote speaker at the School of Biomedical Informatics' commencement, which includes 52 graduates. It will be held at 4 p.m. Wednesday, May 15, in the school's new home on the sixth floor of University Center Tower, 7000 Fannin St.
Miranda specializes in research on environmental health, particularly how the environment shapes health and well-being among children. She is the founding director of the Children's Environmental Health Initiative, a research, education, and outreach program committed to fostering environments where all people can prosper. Her formal educational background is rooted in mathematical, statistical, and economic modeling, and her professional experiences integrate environmental health sciences with social policies.
Miranda received her bachelor's degree from Duke University and her master's and doctorate degrees from Harvard University. She became provost at Rice in 2015.
Cizik School of Nursing at UTHealth
Grant, the first man to serve as president of the American Nurses Association (ANA), is the keynote speaker for Cizik School of Nursing's graduation ceremony. It will be held at 2 p.m. Thursday, May 16, at Smart Financial Centre, 18111 Lexington Blvd., in Sugar Land.
Grant is a burn care and fire safety expert who previously served as burn care coordinator for the North Carolina Jaycee Burn Center at the University of North Carolina Hospitals in Chapel Hill. In that role, he oversaw burn education for physicians, nurses, and other allied health care professionals. He received his bachelor's, master's, and doctorate degrees from the University of North Carolina. As head of the ANA, he represents the interests of 4 million registered nurses.
The traditional "pinning" of graduating students with Bachelor of Science in Nursing degrees will take place during the ceremony, courtesy of the PARTNERS organization. A total of 917 students will graduate from School of Nursing's BSN, master's degree and doctoral programs.
UTHealth School of Dentistry
Bagby, the 28th chief of the Army Dental Corps and deputy chief of staff for support, G-1/4/6, at Army Medical Command, will give the keynote address at the School of Dentistry's 114th commencement ceremony. It will be held at 10 a.m. Friday, May 17, at the George R. Brown Convention Center, 1001 Avenida de Las Americas.
Bagby, who received his doctor of dental medicine from the University of Pittsburgh, completed an oral and maxillofacial oral trauma surgery fellowship at UTHealth. A recipient of the Legion of Merit and Bronze Star, he oversees personnel, logistics, information technology systems, civilian human resources, and talent management for Army medicine.
Among the School of Dentistry graduates, 95 students will earn a DDS, 37 will become dental hygienists, and 45 are graduating with specialty degrees.
McGovern Medical School at UTHealth
Charon, executive director of Columbia's Program in Narrative Medicine, will be the commencement speaker for McGovern Medical School's ceremony at 4 p.m. Friday, May 17. It will be held in the George R. Brown Convention Center Assembly Theatre, 1001 Avenida de Las Americas. A total of 235 students will graduate this year.
Charon originated narrative medicine, which fortifies clinical practice with the narrative competence to recognize, absorb, metabolize, interpret, and be moved by the stories of illness. Her research also focuses on reflective clinical practice and health care team effectiveness. She is the author of "Narrative Medicine: Honoring the Stories of Illness" and co-author of "Principles and Practice of Narrative Medicine."
Charon received her medical degree from Harvard and her doctorate degree from Columbia. She has received a Rockefeller Foundation Bellagio residency and a Guggenheim Fellowship.
The University of Texas MD Anderson Cancer Center UTHealth Graduate School of Biomedical Sciences
Pisters, a fellow of the American College of Healthcare Executives and American College of Surgeons, will be the keynote speaker when MD Anderson UTHealth Graduate School hosts its 53rd commencement. The ceremony honoring 53 graduates will be held at 10 a.m. Saturday, May 18, in Alice Pratt Brown Hall in Rice University's Shepherd School of Music, 6100 Main St. (entrance 18 off Rice Blvd.)
Pisters was appointed to his post by The University of Texas System Board of Regents on Dec. 1, 2017. He previously served the institution in faculty and leadership positions for more than 20 years.
Pisters joined the faculty as an assistant professor of surgery before becoming medical director and eventually vice president for MD Anderson's regional care system. He specialized in helping patients with sarcomas and gastrointestinal cancers and remains a board-certified surgeon.
Pisters earned his medical degree at Schulich School of Medicine and Dentistry at the University of Western Ontario in Canada and his master's degree in health care administration at Harvard School of Public Health.
UTHealth School of Public Health
Phillips will speak at School of Public Health's commencement ceremony, which is open to 373 graduates from all six of its statewide campuses. It will be held in Houston at 2 p.m. Saturday, May 18, at NRG Center, 8400 Kirby Drive.
As executive director of Health and Human Services, Phillips oversees the largest state agency system committed to improving the health, safety, and well-being of Texans with 38,000 employees and an $80 million budget.
Phillips earned a bachelor's degree in kinesiology and a Master of Public Administration from Louisiana State University. She received a doctorate degree in public policy from Southern University in Baton Rouge.