Young becomes second oral surgeon in US with active R01 grant funding
July 09, 2021
Kyle Rogers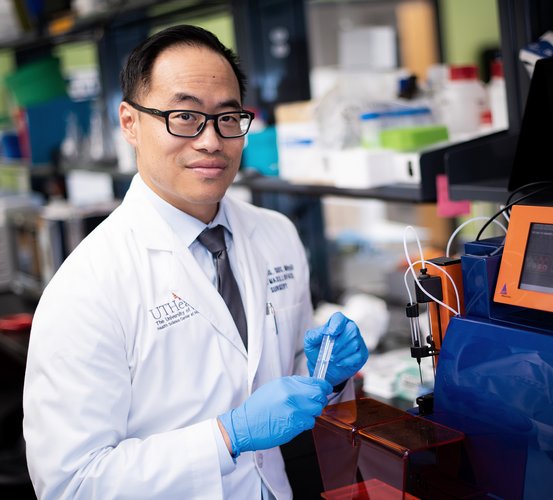 The Young Laboratory at UTHealth Houston School of Dentistry has been awarded a nearly $3 million research project grant (R01 DE030140) from the National Institute of Dental and Craniofacial Research of the National Institutes of Health to continue exploration of biomaterial-facilitated immunotherapy for treatment-resistant oral cancers.
With this grant, Simon Young, DDS, MD, PhD, becomes just the fourth-ever oral surgeon to receive an R01 grant from the NIH, one of two oral surgeons in the U.S. with active R01 funding, and the first from UTHealth. Young is an assistant professor in the Bernard and Gloria Pepper Katz Department of Oral and Maxillofacial Surgery at UTHealth School of Dentistry and a MD Anderson UTHealth Graduate School of Biomedical Sciences faculty member with the Programs in Biochemistry and Cell Biology, and Immunology.
"I'm incredibly grateful to be given this funding opportunity by the NIDCR to work on developing our biomaterials-based intratumoral immunotherapy technology," said Young. "The OMS Foundation and NIDCR were there to support us at the very beginning when Jeff Hartgerink and I were just formulating this new idea.
"As a young surgeon-scientist and early-stage investigator, R01 grant funding like this is a dream come true — I feel as though my entire career up to this point has been focused on achieving this milestone. Despite the challenges of the COVID-19 pandemic, I've been extremely lucky to be surrounded by an incredibly supportive OMS department and numerous bright minds in both my and collaborators' labs who have dedicated themselves to this work. I couldn't be happier right now and am truly excited to see how we can look at ways on improving care for oral cancer patients in the future."
The R01 grant is $2.77 million and will be awarded over a five-year span starting in July 2021 for the project, titled "SynerGel: A novel tumor microenvironment-modulating hydrogel for local immunotherapy." Funds will be split between Young, the project's primary investigator; Jeffrey Hartgerink, PhD, at Rice University; Andrew Sikora, MD, PhD, at The University of Texas MD Anderson Cancer Center; and Akdes Harmanci, PhD, at Baylor College of Medicine.
Young's grant summary recognizes, "The overall five-year survival rate for head and neck cancer has not improved much over the last few decades with both conventional multimodal treatment and emerging immunotherapies known to have an adverse, and sometimes fatal, impact on quality of life."
Immunotherapy, Young notes has become an emerging standard of care for many different kinds of cancer. His group is working to improve it through a biomaterials-based, intratumoral delivery approach which is highly customizable because of the modular nature of the amino acid building blocks of the peptide hydrogel being used.
The Young Lab plans to use the grant to investigate the mechanisms driving the effectiveness of a novel immunotherapy platform technology for head and neck cancer, SynerGel, and determine how it can be used in combination with standard-of-care radiation therapy to reduce treatment toxicity. SynerGel, which is peptide-based, is an injectable, biomaterial-based platform for intratumoral drug delivery created by Young, Hartgerink, and Sikora.
The aim of the research is to enhance understanding of how both tumor and immune cells in the tumor environment can be manipulated to produce a strong anti-tumor effect while reducing the side effects of treatment.
The research team will create various immunotherapy combinations and evaluate their effectiveness in a preclinical setting not just for efficacy, but also break down the tumor to single-cell suspensions to assess the tumor micro-environment using advanced techniques such as single-cell sequencing.
This research marks the continued progress of SynerGel. Young, Hartgerink, and Sikora published a paper on their hydrogel in the February edition of ACS Biomaterials Science & Engineering, reporting an advance on their previous development of the original drug-hydrogel combination, STINGel, from 2018.
Research to date has been supported by grants from the OMS Foundation, the Hinds Academy Foundation, the National Institute of Dental and Craniofacial Research of the National Institutes of Health, the Welch Foundation, the National Science Foundation, and the Mexican National Council for Science and Technology.