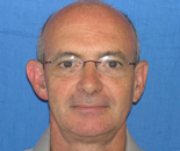 Rick Finch, Ph.D.
Associate Member
Associate Professor
The University of Texas MD Anderson Cancer Center
Michale E. Keeling Center/Department of Veterinary Sciences
My laboratory is located in Bastrop, Texas, at UT Science Park -Veterinary Sciences
My primary research interests are in anticancer therapeutics discovery and development. These include preliminary in vitro drug screening and mechanistic studies, in vivo proof of concept studies, and the final critical GLP-compliant safety studies required to seek approval from the FDA for clinical trials. We operate in a highly integrated collaborative multidisciplinary environment, drawing on the facilities and expertise available within established programs in veterinary pathology, veterinary clinical medicine, cellular immunology, and quality assurance. We have ongoing drug development collaborations with investigators in other departments within the Institution as well as at numerous other research organizations. The Keeling Center (KCCMR) has developed animal research resources that are unique among academic research institutions, with one of the largest Specific Pathogen Free breeding colonies of rhesus monkeys in the United States and similar breeding colonies of squirrel monkeys and owl monkeys. The KCCMR colony of chimpanzees permits research in cancer immunotherapeutics and vaccines that is not feasible in other species. The availability of these special resources is of great value in assessing the safety of new therapeutics intended for use in humans. We are experienced with both traditional and non-traditional compounds such as gene therapeutics, oligonucleotides, unique targeted modalities, and medical devices and can offer expertise and one-on-one guidance to investigators to help ensure that the appropriate pre-clinical safety studies are performed to support Investigational New Drug applications to the FDA.
A tutorial in our laboratories would provide valuable experience with relevant pre-clinical animal models and insight into the translational requirements for movement of new therapeutics from discovery to clinical trial.
Education & Training
Ph.D. - Baylor College of Medicine - 1995
---