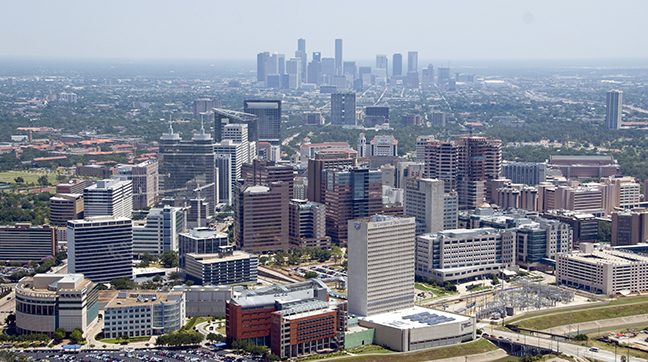 The Texas Medical Center
The campus of the Graduate School located in the heart of the Texas Medical Center (TMC), the largest medical city in the world. This epicenter of medical innovation houses both the world's largest children's hospital and cancer hospital. The storied history of the TMC includes the world's first coronary artery bypass procedure, the first total artificial human heart transplant, the first private hospital air ambulance service, and the first successful implantation of an electric, portable heart pump.
Our central location allows our students to enjoy the benefit of cross-institutional support and collaboration with clinicians and researchers from our parent institutions, MD Anderson and UTHealth, as well as nearly 50 different TMC member institutions, including Memorial Hermann Hospital, the Michael E. Debakey Veterans Affairs Medical Center, Texas Children's Hospital, the Texas Heart Institute, TIRR Memorial Hermann, CHI St. Luke's Health, and Houston Methodist Hospital.