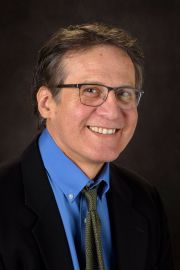 Felipe Samaniego
Regular Member
Associate Professor
The University of Texas MD Anderson Cancer Center
Department of Lymphoma/Myeloma
Our interests have centered on translational research to understand the mechanisms underlying responses to targeted- and immunotherapies. To complete these investigations, we conduct clinical trials using novel treatment approaches and analyses. Below are some of my clinical trials linked with research studies, all of which lay a foundation for understanding lymphoma biology:
Patients with non-Hodgkin lymphoma receive an oral P13K inhibitor + ublituximab.


Based on results of a clinical trial led by Drs. Nathan Fowler and Samaniego, the FDA granted approval to use umbralisib for patients with relapsed marginal zone lymphoma. This success led to our clinical trial that combines umbralisib with ublituximab for treatment of patients with relapsed follicular lymphoma and marginal zone lymphoma.


Patients with relapsed/refractory B-cell lymphoma receive CG-806 (active with mutated Bruton's tyrosine kinase and other driver kinases). We analyze lymphoma tissues to establish the mechanisms underlying tumor responses.


Patients with marginal zone lymphoma receive the CD20 antibody rituximab, alone or in combination with ibrutinib, as first-line therapy in this Phase III study.


Patients with advanced stage, Hodgkin lymphoma receive a new targeted therapy, the anti-PDL1 antibody nivolumab, along with an antibody-drug conjugate brentuximab vedotin, to test the combination's effectiveness compared to treatment with brentuximab vedotin alone.


Patients with relapsed T cell lymphoma are treated with a first-in-humans oral drug, the cIAP and xIAP inhibitor ASTX660, to test the drug's safety, correct dose, and cancer-fighting activity (overall response rates have been over 50%).


In a new randomized controlled- (and FDA registration) trial, patients with low-grade B-cell lymphoma will receive one of two treatments: rituximab or rituximab plus ibrutinib.
Grants from various agencies, fellowships, and gifts from the many grateful patients treated at MD Anderson provide support for this research. Prospective graduate students work closely with a group of post-doctoral fellows, technicians, and faculty mentors on various projects with the goal of applying their findings to the development of novel cancer therapies. We have resources available to complete our projects, including recombinant DNA reagents, mice tumor models, access to tumor banks, and ongoing clinical trials for clinical investigation of new therapies.
Education & Training
MD, Harvard Medical School, 1983
---