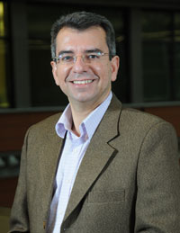 Radbod Darabi
Regular Member
Associate Professor
The University of Texas Health Science Center at Houston
McGovern Medical School
Institute of Molecular Medicine
Center for Stem Cell and Regenerative Medicine
We are interested in using stem cells including human iPS cells for tissue regeneration especially for skeletal muscle repair. During the last few years, we have pioneered new methodologies for directed differentiation of ES/iPS cells toward skeletal muscle progenitors and demonstrated their efficiency for skeletal muscle repair in various mice models for muscular dystrophies.

In our lab, we use cutting-edge technologies for iPS reprogramming, disease modeling and gene correction approaches to generate corrected patient iPS cell. Furthermore, we have generated few muscle specific knock-in reporter ES/iPS cell lines for in vitro study of myogenic differentiation. These efforts provide novel tools to study myogenic differentiation of stem cells for potential stem cell based therapies.

Our lab is also interested in directed differentiation of ES/iPS cells toward other mesodermal derived progenitors such as cardiac and endothelial cells. We provide an active and refreshing research environment for fresh and motivated graduates to pursue their interest in stem cell and tissue regeneration field.
Education & Training
MD, Zahedan University of Medical Sciences, 1997
PhD, Iran University of Medical Sciences, 2005
Research Info
Myogenic gene regulation, gene editing and directed differentiation of stem cells toward skeletal muscle progenitors suitable for cell therapy in muscle disorders
Research Opportunities
---
Programs
---
Faculty Development
---
---