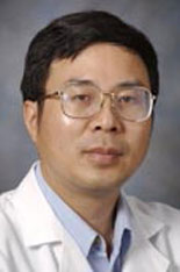 The University of Texas MD Anderson Cancer Center
Department of Thoracic and Cardiovascular Surgery
My laboratory is interested in innovative anticancer agents, targeted cancer therapy, the mechanisms of action of and/or resistance to anticancer agents, and molecular signatures or biomarkers for predicting treatment response or early diagnosis of lung cancers. Current study includes TRAIL-armed oncolyticadenovirotherapy, small molecules targeted to K-Ras and the C-terminal domain of RNA polymerase II, biomarkers in primary lung cancer, and molecular signatures of response to targeted therapy in lung cancer. Our long term goal is to develop pathway-targeted therapeutic agents that are minimally toxic and highly effective to treat refractory tumors and identify molecular signatures for predicting response or early diagnosis.
Depending on the student's interests, tutorial in my laboratory would provide experience in basic molecular biology, in vitro and in vivo tumor models, cell signaling and experimental therapy for cancer.
Education & Training
M.D. - Zhejiang Medical University - 1982
Ph.D. - Hamburg University - 1989
Programs
---
---