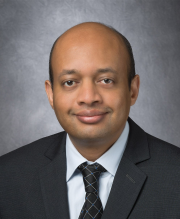 Yonathan Lissanu Deribe
Regular Member
Assistant Professor
The University of Texas MD Anderson Cancer Center
Departments of Thoracic & Cardiovascular Surgery and Genomic Medicine
The Lissanu Lab is interested in identifying therapeutically amenable vulnerabilities of genetically defined cancer types. The long-term goal of the lab is to translate basic cancer biology discoveries to new cancer therapeutics.
Specifically, we study lung cancers with mutations in epigenetic and chromatin regulators. Current efforts in the lab are geared towards elucidating the genetic vulnerabilities of cancers with mutations in the SWI/SNF chromatin remodeling genes using various functional genomic approaches. We aim to leverage the insights from our basic studies to identify therapeutic targets and develop novel therapeutics. Further, we are actively pursuing targeted protein degradation by small molecule degraders as a new cancer therapeutic modality. In this respect, we design and synthesize new small molecules as well as utilize existing agents. We routinely generate novel genetically engineered mouse (GEM) models of cancer using information derived from human cancer genomic studies. We then perform cross-species integrative functional analysis of GEM models and human tumors to triangulate on key hallmarks of cancers and elucidate mechanisms of tumorigenesis and vulnerabilities in genetically defined subtypes of cancer.
Typical projects available for graduate students include identifying clinically relevant vulnerabilities of tumors harboring mutations in specific chromatin or epigenetic regulators using CRISPR-Cas9 screens, characterization of novel GEM models and investigating novel therapies including custom made small-molecule degraders to take our discoveries to the next level. The lab has longstanding and productive collaborations with the Therapeutics Discovery platforms of MD Anderson and other laboratories in Genomic Medicine and Thoracic Surgery.
Education & Training
MD, Gondar University, Ethiopia, 2001
PhD, University of Frankfurt, Germany, 2010
Research Info
Chromatin remodeling in cancer; targeted protein degradation as therapeutics
Research Opportunities
---
Programs
---
---