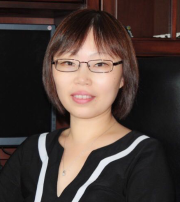 C. Cameron Yin
Associate Member
Professor
The University of Texas MD Anderson Cancer Center
Department of Hematopathology
The primary focus of my laboratory is to identify molecular genetic abnormalities that contribute to the pathogenesis of hematopoietic neoplasms, and that may serve as markers for diagnosis, risk stratification, monitoring minimal residual disease (MRD) and target therapy.
We have recently discovered that immunoglobulin (Ig) heavy and light chains are expressed at high levels in myeloblasts from patients with acute myeloid leukemia (AML) and AML cell lines. AML-derived Ig has unique V-D-H rearrangement patterns and has undergone somatic mutation. Anti-human IgG reduced cell viability and induced apoptosis in AML cell lines. We are testing whether AML-derived Ig plays a role in AML pathogenesis, and whether AML-derived Ig can serve as a marker for MRD monitoring, risk stratification and target therapy.
Another area of my research interest is to study recurrent molecular and cytogenetic abnormalities in leukemias and lymphomas, and development of molecular tests that can aid in the diagnosis and monitoring of hematopoietic neoplasms.
Depending on the students' interests, a tutorial in my lab would provide experience with various concepts and techniques related to the biology of hematopoietic neoplasms. In addition, students with interests in hematopathology and molecular diagnostic pathology could have opportunities to attend didactic lectures and slide conferences given to clinical and research fellows in the Department of Hematopathology.
Education & Training
M.D. - Beijing Medical University - 1990
Ph.D. - University of Wisconsin-Madison - 1998
Programs
---
---