18 Graduate School faculty members honored at endowment luncheon
Faculty endowment holders receive medals in recognition of exemplary service
December 19, 2022
Meredith Raine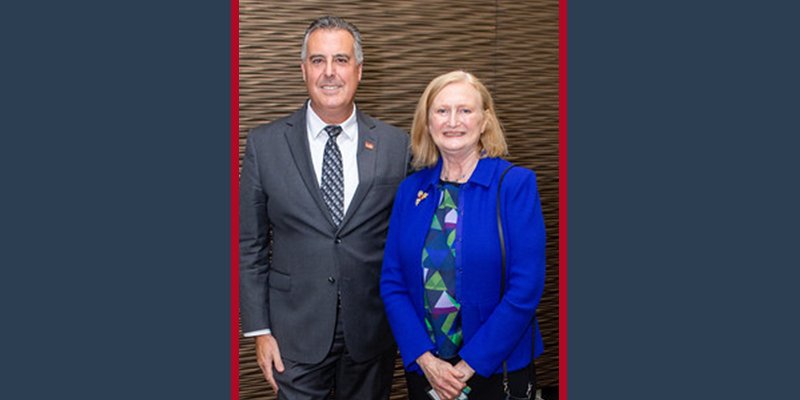 In this season of gratitude and giving, UTHealth Houston celebrated faculty endowment holders and honored the generous benefactors who created those endowments to propel the university's mission forward.
During a luncheon hosted by Giuseppe N. Colasurdo, MD, UTHealth Houston president and Alkek-Williams Distinguished Chair, members of the university's executive leadership welcomed distinguished faculty members who have been appointed to endowed positions between 2019 and 2022.
The luncheon on Thursday, Dec. 8, at the Cooley University Life Center was the first in-person event honoring faculty endowment holders since the beginning of the COVID-19 pandemic.
"Take a look around the room," said Kevin A. Morano, PhD, senior vice president and chief academic officer ad interim. "You all represent the best of the best researchers, educators, and clinicians who have earned the prestigious honor of holding an endowment. We thank you for your amazing contributions to the communities we serve."
"We also want to thank the benefactors who created these endowments," Morano said. "They saw that through their generosity, they could spark progress that saves and improves lives."
Endowments are permanent funds designated for a specific purpose by the donors who create them with gifts to the university. During fiscal year 2022 alone, gifts from donors created 66 new endowed funds for a total of 840 across the university.
"Today, we recognize you – the beneficiaries of this generosity," Morano said. "Your ongoing pursuit of excellence helps train the health professionals of tomorrow, advance research that changes lives for the better, and serve our communities through patient-centered outreach and care."
After lunch, Richard Andrassy, MD, senior vice president for clinical and faculty affairs, presented each faculty member with a medal in recognition of exemplary service. Andrassy himself is the beneficiary of multiple endowments. He holds the Jack H. Mayfield, MD, Distinguished University Chair in Surgery and the Denton A. Cooley, MD, Chair in Surgery.
For more information on endowments and how they help to advance the mission of UTHealth Houston, visit this Ways to Give webpage.
Listed below are the faculty endowment holders honored at the luncheon. The names in bold font are faculty members of the University of Texas MD Anderson Cancer Center UTHealth Houston Graduate School of Biomedical Sciences. Visit the photo gallery webpage for pictures of the event.
Ronald E. Acierno, PhD


Louis A. Faillace, MD, Chair in the Department of Psychiatry and Behavioral Sciences

Ore-Ofeoluwatomi O. Adesina, MD


John P. McGovern, MD, Distinguished Professorship in Ophthalmology

Mary E. Aitken, MD, MPH


Dan L Duncan Distinguished University Chair in Pediatrics

Shervin Assassi, MD, MS
Dr. Noranna B. Warner Endowed Chair in the Division of Rheumatology
George S. Bruce, Jr. Professorship in Arthritis and Other Rheumatic Diseases
Bijal A. Balasubramanian, MBBS, PhD


The Rockwell Distinguished Chair in Society and Health

Pamela D. Berens, MD


Dr. John T. Armstrong Professorship in Obstetrics and Gynecology

Sean C. Blackwell, MD


Memorial Hermann Chair

Wei Cao, PhD
Roy M. and Phyllis Gough Huffington Distinguished Professorship
Nathan Carlin, PhD, MA, MDiv
John P. McGovern, MD, Chair in Medical Humanities
Peng Roc Chen, MD


Memorial Hermann Chair

Martin J. Citardi, MD


Memorial Hermann Chair

Jessica S. Coviello, DNP, RN


Patricia L. Starck/PARTNERS Endowed Professorship in Nursing

Charles S. Cox, Jr., MD
Glassell Family Distinguished Chair
April Crawford, PhD
Meg and Dick Weekley Distinguished Chair in Childhood Reading and Learning


Michael Matthew Knight Memorial Professorship in Pediatrics

Christopher S. Daniel, MD, DDS


Nguyen-Thang Family Professorship in Oral and Maxillofacial Surgery

Radbod Darabi, MD, PhD
Jerold B. Katz Distinguished Professorship in Stem Cell Research
Charles Darkoh, PhD
R. Palmer Beasley, MD, and Lu-Yu Hwang, MD, Chair
Nagi M. Demian, MD, DDS


Thomas M. Weil Professorship in Oral and Maxillofacial Surgery

Sharon Y.R. Dent, PhD
John P. McGovern Graduate School of Biomedical Sciences
Endowed Distinguished Professorship
Carmen W. Dessauer, PhD
John P. and Kathrine G. McGovern Distinguished Chair
Maja Djukic, PhD, RN


John P. McGovern Distinguished Professorship in the School of Nursing

Robert M. Feldman, MD


Eunise Hermes Davidson Distinguished University Chair

Erin E. Furr Stimming, MD


Memorial Hermann Chair

Xin Ge, PhD
Kay and Ben Fortson Distinguished Chair in Neurodegenerative
Disease Research
Matthew R. Greives, MD


Dr. Thomas D. Cronin Chair in Plastic Surgery

John F. Hancock, MA, MB, BChir, PhD, ScD
H. Wayne Hightower Distinguished Professorship in the Medical Sciences
Adelaide A. Hebert, MD


Cornelia and Meredith Long Professorship in Pediatric Dermatology

Daphne C. Hernandez, PhD, MSEd


Lee and Joseph Jamail Distinguished Professorship in the School of Nursing

Linda Highfield, PhD


Distinguished Chair in Population Health

Deepa A. Iyengar, MD, MPH


Stanley G. Schultz, MD, Endowed Professorship in Global Health

Vasanthi Jayaraman, PhD
John S. Dunn Chair in Biochemistry and Molecular Biology
Biswajit Kar, MD


Memorial Hermann Chair

Amir M. Khan, MD


Richard Warren Mithoff Professorship in Neonatal/Perinatal Medicine

Manickam Kumaravel, MD


Memorial Hermann Chair

James R. Langabeer, PhD


Robert H. Graham Professorship in Entrepreneurial Biomedical Informatics and Bioengineering

David A. Lee, MD


Susan and Richard Anderson Distinguished Chair in Ophthalmology

Jessica L. Lee, MD


Carmel Bitondo Dyer, MD, Chair in Geriatric and Palliative Medicine

Yafen Liang, MD


Memorial Hermann Chair

Samuel D. Luber, MD


Memorial Hermann Chair

Charles L. Maddow, MD


Wyatt Ranches Distinguished Professorship in Geriatric and Palliative Medicine

Christine Markham, PhD


Allan King Professorship in Public Health

Kenneth B. Mathis, MD


Memorial Hermann Chair

Nami McCarty, PhD
Annie and Bob Graham Distinguished Chair in Stem Cell Biology
Timothy J. McCulley, MD


Richard S. Ruiz, MD, Distinguished University Chair

Michelle K. McNutt, MD


Memorial Hermann Chair

Alanna C. Morrison, PhD
Thomas Stull Matney, PhD, Endowed Professorship in Environmental and Genetic Sciences
John W. Munz, MD


Rochelle and Max Levit Chair in Orthopedic Surgery

Aanand D. Naik, MD


Nancy P. and Vincent F. Guinee, MD, Distinguished Chair

Ana C. Candia Solari Neumann, DDS, PhD, MPH


Gene C. Stevenson Distinguished Professorship in Dental Education

Nghia D. Nguyen, MD


Dr. John D. and Carol J. Milam Chair in Pathology

Hope Northrup, MD
Memorial Hermann Chair
Gustavo S. Oderich, MD


John P. and Kathrine G. McGovern Distinguished Chair

Luis Z. Ostrosky, MD


Memorial Hermann Chair

Sheng Pan, PhD
Rochelle and Max Levit Chair in the Neurosciences
Anilkumar Pillai, PhD
Louis A. Faillace, MD, Chair in the Department of Psychiatry and Behavioral Sciences
Pamela A. Promecene, MD


Memorial Hermann Chair

Elda G. Ramirez, PhD, RN


Dorothy T. Nicholson Distinguished Professorship

John Rasmussen, PhD


The Carolyn Frost Keenan Professorship in Cardiovascular Disease Research

Nahid J. Rianon, MBBS, DrPH


Memorial Hermann Chair

John W. Riggs, MD


The Patricia and Ian Butler Endowed Professorship in Medical Professionalism

Leissa A. Roberts, DNP


Judy Fred Professorship in Nursing

Emily K. Robinson, MD


Memorial Hermann Chair

Diane M. Santa Maria, DrPH, MSN, RN
The Jane and Robert Cizik Distinguished Chair
Huffington Foundation Endowed Chair in Nursing Education Leadership
Joy M. Schmitz, PhD


Louis A. Faillace, MD, Chair in the Department of Psychiatry and Behavioral Sciences

Manish N. Shah, MD


William J. Devane Distinguished Professorship

Nitin Tandon, MD
Nancy, Clive and Pierce Runnells Distinguished Chair in Neuroscience of the Vivian L. Smith Center for Neurologic Research
BCMS Distinguished Professorship in Neurological Disorders and Neurosurgery
Cui Tao, PhD


Dr. Doris L. Ross Professorship

Susan Tortolero Emery, PhD, MS


Guy S. Parcel Chair in Public Health

Muhammad F. Walji, PhD, MS


Chair in Dental Informatics

Consuelo Walss-Bass, PhD
John S. Dunn Foundation Distinguished Chair in the Department of Psychiatry and Behavioral Sciences
Stephen J. Warner, MD


Emmanuel "Manny" G. Melissinos, MD, Chair in Orthopaedic Surgery

Andreea S. Xavier, MD


Wyatt Ranches Distinguished Professorship in Geriatric and Palliative Medicine

Hua Xu, PhD


Glassell Family Distinguished Professorship

Chao H. Yeh, PhD, MSN, RN


The Jane and Robert Cizik Distinguished Chair

Bing Yu, PhD


The JLH Foundation Chair in Transplant Prevention

Guo-Qiang Zhang, PhD


Distinguished Chair in Digital Innovation

Tricia A. Zucker, PhD


Albert and Margaret Alkek Distinguished Chair in Early Childhood Development