3 Graduate School faculty members named AAAS Fellows
February 16, 2022
Tracey Barnett/ MD Anderson UTHealth Graduate School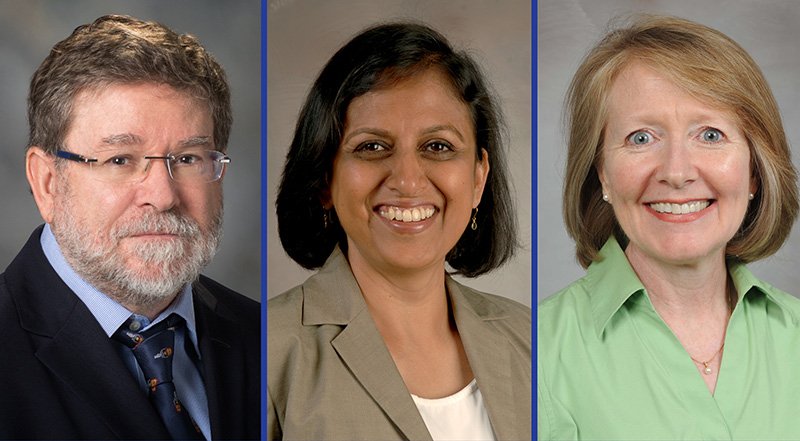 MD Anderson UTHealth Graduate School faculty members Juan Fueyo, MD, Vasanthi Jayaraman, PhD, and Theresa M. Koehler, PhD, were named 2021 American Association for the Advancement of Science (AAAS) Fellows.
The newly elected AAAS Fellows are:
Juan Fueyo, MD, a professor of Neuro-Oncology and director of Neuro-Oncology Experimental Research at MD Anderson Cancer Center. Fueyo is affiliated with the GSBS Cancer Biology program. He was chosen for his innovative conceptualization of Delta-24, a novel tumor-selective oncolytic adenovirus to treat recurrent glioblastoma and brain metastases. His development of new immune therapies and oncolytic adenoviruses from bench to bedside has been a vital contribution to the field of oncolytic viral therapy. Because of his work, oncolytic viruses are now viewed as a promising new type of immunotherapy.
Vasanthi Jayaraman, PhD, a professor in the Department of Biochemistry and Molecular Biology at McGovern Medical School at UTHealth Houston. Jayaraman is affiliated with the GSBS programs in Biochemistry and Cell Biology, and Neuroscience. She was recognized for her fundamental contributions to structure-function relationships in transmembrane proteins and elegant insights into the dynamics of synoptically activated ion channels. Her lab is focused on gaining an understanding of agonist mediated activation and desensitization of glutamate receptors by determining the structural changes in the protein induced by agonist binding.
Theresa M. Koehler, PhD, a professor in the Department of Microbiology and Molecular Genetics at McGovern Medical School at UTHealth Houston. Koehler is affiliated with the GSBS Microbiology & Infectious Diseases program. She was recognized for her distinguished contributions to the field of bacterial genetics and physiology, particularly for gene regulation and host-pathogen signaling. Koehler's lab focuses on Bacillus anthrasis, a gram-positive, spore-forming bacterium which has the ability to cause anthrax in mammals, and its relatedness to Bacillus cerus and Bacillus thuringiensis, which are similar physiologically but produce vastly different diseases.
The 2021 class of AAAS Fellows includes 564 scientists, engineers, and innovators from around the world spanning scientific disciplines. The new class hails from academic institutions, laboratories, hospitals and medical centers, museums, global corporations, nonprofit organizations, institutes, and government agencies.
The new Fellows will receive an official certificate and a gold and blue rosette pin to commemorate their election (representing science and engineering, respectively) and will be celebrated later this year during an in-person gathering when it is feasible from a public health and safety perspective. The new class will also be featured in the AAAS News & Notes section of Science in January 2022.
Read more about the other AAAS Fellows here.