4 GSBS students named 2022 UTHealthLeads fellows
December 06, 2022
Faith Harper/ UTHealth Houston Public Affairs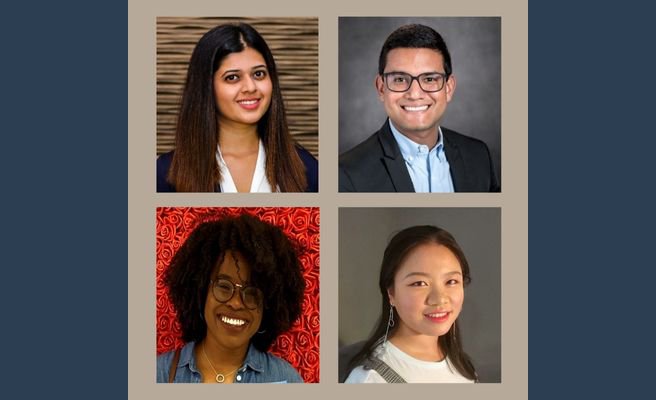 Editor's note: This is one article in a series highlighting the students participating in UTHealthLeads.
UTHealthLeads is a one-year student fellowship program to develop future leaders in health care.
In the program, UTHealth Houston students learn how to develop self-awareness, increase their leadership confidence, lead others, and effectively influence systems.
A total of 24 UTHealth Houston students — four students from each school — make up this year's cohort. They will be provided opportunities to network with leaders, develop fundamental skills, and commit to actions to continue their growth.
Meet the 2022-23 UTHealthLeads fellows at MD Anderson Cancer Center UTHealth Houston Graduate School of Biomedical Sciences:
Tanvi Visal
Visal is a PhD student from Pune, India. She pursued her undergraduate studies in pharmaceutical sciences and moved to New York for her master's degree. She gained two years of research experience in Boston. She then moved to UTHealth Houston where she is currently a rising fourth-year PhD candidate affiliated with the GSBS Programs Cancer Biology and Immunology. Outside the lab, she is an experimental baker and amateur ukulele player.
What brought you to graduate school?
"Curiosity for science and passion for cancer research and therapeutics."
What are you hoping to gain from this program?
"I am looking forward to networking and learning from a leadership coach, gaining experience in managing scientific and nonscientific groups, and shaping my professional identity as a leader in science."
Where do you hope to be in 10 years?
"I hope to lead a scientific group at a leading-edge pharmaceutical firm that specializes in cancer therapeutics."
Servando Hernandez Vargas
Hernandez Vargas was born and raised in Venezuela. He initially came to Houston in 2008 to pursue a Bachelor of Science in biomedical engineering at the University of Houston. He then earned a Master of Science in experimental therapeutics at MD Anderson UTHealth Houston Graduate School, where he is now pursuing a PhD in therapeutics and pharmacology. When he's not thinking about science, Vargas enjoys going on long hikes, playing chess, and talking about fascinating ideas.
What brought you to graduate school?
"I am fascinated by the human body, particularly how molecular interactions allow our bodies to function. When these interactions go wrong they can cause disease. I came to graduate school to develop skills to enable me to discover ways to fix molecular dysregulations."
What are you hoping to gain from this program?
"I seek to gain tools that allow me to systematically conceptualize the role and attributes of an effective leader."
Where do you hope to be in 10 years?
"My goal is to become a principal investigator and contribute to health care through the development of new technologies for treating diseases more effectively."
Paulina Horton
Horton is a sixth-year PhD student in the Immunology Program at the graduate school. She was born and raised in Las Vegas, Nevada, and received her bachelor's degree from Howard University in Washington, D.C. She didn't always know she would be a scientist, but she has always loved science. She loves the adventure of discovering and understanding the intricate and complex ways cells work, saying, "It makes me feel like Indiana Jones with a pipette." When Horton is not in the lab she can be found trying new restaurants with foodie friends or hosting a spirited game night.
What brought you to graduate school?
"While in my junior year of college I was introduced to immunology and absolutely fell in love with the field. I was constantly asking my professor to teach me more than what we were covering in class. Eventually, he suggested I try going into research to quench my insatiable curiosity. When I learned graduate school would allow me to continue to study and learn about the immune system, I decided to pursue my doctorate in this field, and I haven't looked back."
What are you hoping to gain from this program?
"I'm hoping to continue to hone and refine my leadership skills I've acquired in and out of the lab. I'm also hoping to learn more about leading in a more professional setting and improving my understanding of leading in a system."
Where do you hope to be in 10 years?
"In the next 10 years I hope to be working my way toward being a top executive in a life sciences company or working on starting my own company."
Xingdi Ma
Ma is a PhD student from Beijing, China. She completed her Bachelor of Arts at Mount Holyoke College, with a double major in biological sciences and music. She moved to Houston to pursue a graduate degree in bioinformatics and cancer biology. In her free time, she dances, reads, and practices the violin.
What brought you to graduate school?
"Both my parents are in biomedicine and they inspired me to follow their footsteps."
What are you hoping to gain from this program?
"I want to learn from established leaders and peers with different leadership experiences, and leadership theories from a professional coach."
Where do you hope to be in 10 years?
"Working at a pharmaceutical company at a project management position."