Alumna Jovanka Gencel-Augusto, PhD, earns the UC President's Postdoctoral Fellowship; offers insight into the pursuit of postdoc opportunities
August 09, 2023
Emily Rech/ MD Anderson UTHealth Houston Graduate School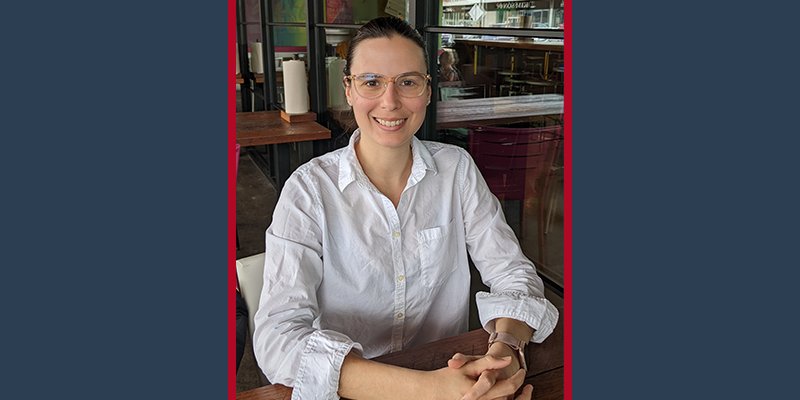 When Jovanka Gencel-Augusto, PhD '23, entered her last year in the Genetics & Epigenetics program (with a Cancer Biology secondary concentration) at the Graduate School, she knew she wanted to continue her path towards a career in academia, specifically in cancer research. (During her time at the school, Gencel-Augusto received the Thomas F. Burks Scholarship for Academic Merit, Rosalie B. Hite Fellowship, Dr. John J. Kopchick Fellowship, and Tzu-Chi Scholarship Award for Excellence.) She met with her advisor, Guillermina Lozano, PhD, to discuss labs that would be a good fit for her interests and professional goals and compiled a list of potential labs based on that conversation. This list of labs began Gencel-Augusto's search for the right postdoctoral opportunity for her. After lots of research, networking, writing and rewriting, her dedication to the process earned her a position in the Bivona lab at the University of California, San Francisco (UCSF) and the UC President's Postdoctoral Fellowship.
With her list of potential labs at the ready, Gencel-Augusto began reaching out to PIs for meetings. She knew she would be going to a conference where Trever Bivona, MD, PhD, would also be in attendance. She took this opportunity to schedule an in-person meeting to present her research, learn about his lab at UCSF, and make a meaningful introduction. During the appointment, she explained how a specific finding in her dissertation could be expanded upon using the research being conducted in the Bivona Lab. The meeting went well, and she was invited to visit the lab in-person. She found the environment to be welcoming and constructive, and she soon had her heart set on UCSF for the next step in her career. With an offer secured, she began looking at postdoc fellowships.
One of the biggest pieces of advice she has for the postdoctoral process is to start researching fellowships early. She found that by the time she was looking, some applications had already closed. Luckily, the UC President's Postdoctoral Fellowship was still accepting applicants.
"As long as you have a potential postdoc mentor to write a letter stating their commitment, you can apply to most postdoc fellowships without data. In fact, most fellowships are only offered to scientists who have a maximum of one year of postdoc experience. So earlier is better!"
It's important to note that some labs only accept postdocs who already have funding secured. Gencel-Augusto recommends mentioning your active pursuit for fellowships in interviews you are having with potential PIs. "You want to be able to prove that you can obtain funding for yourself and your research in the future. This skill is essential for faculty members."
Procuring a postdoctoral fellowship can be a lengthy and strenuous process, but Gencel-Augusto made sure to get feedback on each component of her fellowship application from multiple sources: lab mates, her advisor, mentors, the GSBS Office of Career Development, and even her future PI. She offers five key pieces of advice for those in the midst of their own fellowship applications.
Make a point to build a good relationship with your advisory committee members. One of her letters of recommendation was from a committee member; they are part of your team to help you, guide you, and hopefully be around for advice even after your time at the GSBS.


Research who the previous fellows are and reach out to them to make a connection. In doing this, Gencel-Augusto was able to gain insight from someone who had successfully been through the process. This made her more aware of what the reviewers were looking for specifically.


Your research proposal needs to answer the following question: how will your area of expertise converge with your postdoc lab's focus to help you learn new skills and develop your own line of research? By learning about the PPAR signaling pathway through her own research findings, she found a link between her dissertation and the research at Bivona lab. After reviewing studies in the field, she found that no one had published research on her proposed concept. Branching into a new area of study through something she was familiar with and curious about studying further helped to illustrate her qualifications in her research proposal. Additionally, ask feedback from as many people as possible. If you can, ask people in different fields to read your research proposal, as reviewers are likely not working in your area of expertise.


Your Personal Statement must show reviewers why they should invest in you. This is where the Office of Career Development was instrumental in giving useful feedback to Gencel-Augusto. She met with the director of Student Affairs and Career Development, Raquel Salinas, PhD, to go over the draft of her statement. "Dr. Salinas offered suggestions that wouldn't have even occurred to me. These recommendations made my statement stronger."


Go past how the fellowship will benefit you; talk about how you will use this opportunity to become a valuable resource for the next generation of scientists. During her personal statement review, Dr. Salinas asked Gencel-Augusto, "How will you continue learning to be an inclusive mentor in the future?" In the first draft of her statement, she spoke of obstacles she had in her path as an emerging scientist, and she had highlighted community service work she had done, but she had not focused much on her future philanthropic plans. "I cannot just say 'I'm finished, that's enough giving back.'" Think about what actions you can take to continue being a supportive mentor, faculty member, PI, etc. She truly believes that including this thought process in her statement set her apart from other applicants.
If you are preparing to begin your own journey through the postdoctoral fellowship process, start early and ask for help. At the school, there are so many resources available for feedback and guidance. To get in contact with the Office of Career Development, email gsbs.careerdevelopment@uth.tmc.edu. For any additional questions about the postdoc fellowship process, feel free to contact Jovanka Gencel-Augusto, PhD.