GSBS staffers Salinas, Spitzenberger named 2021-2022 Melva S. Ramsay awardees
April 27, 2022
EMILY RECH, MD ANDERSON UTHEALTH GRADUATE SCHOOL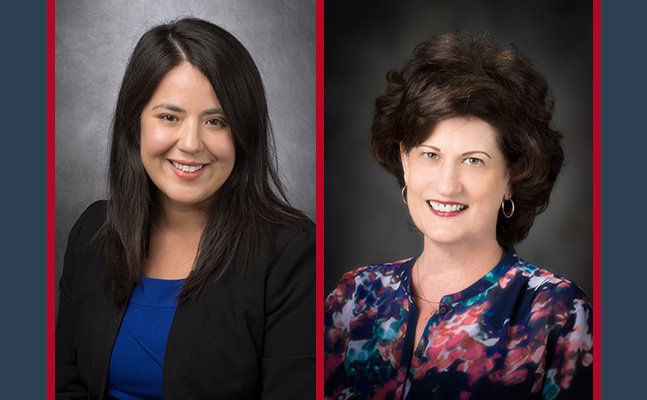 Every year at the GSBS, the dean's office acknowledges and rewards a GSBS administrator for exemplary service to students, faculty, and staff with the Melva S. Ramsay Award. This year, because of the pandemic, the GSBS staff was lucky enough to elect two honorees for this prestigious award. Cheryl " Spitz" Spitzenberger, the program manager of diversity and student affairs, and Raquel Ybañez Salinas, PhD, the director of student affairs and career development, were chosen by their peers to receive the 2021-2022 Melva S. Ramsay awards.
This award was created in honor of Melva Ramsay—a staff member at the Graduate School of Biomedical Sciences for 33 years from 1966 to 1990 whose managerial skill, mentoring and concern for others, and sense of humor were essential to building the community and reputation we have today.
After a temporary hold on awards due to COVID-19, the GSBS staff gathered together for the first time in over two years to honor recipients of the Melva S. Ramsay Award and celebrate together with an appreciation breakfast. The morning was filled with congratulations, camaraderie, and a plethora of breakfast tacos.
Please join the dean's office in commending Spitz and Raquel for their hard work and dedication to The University of Texas MD Anderson Cancer Center UTHealth Graduate School of Biomedical Sciences and all of our students, faculty, and staff.