Meet the Staff: Ahmed Mansour
September 12, 2023
Emily Rech/MD Anderson UTHealth Houston Graduate School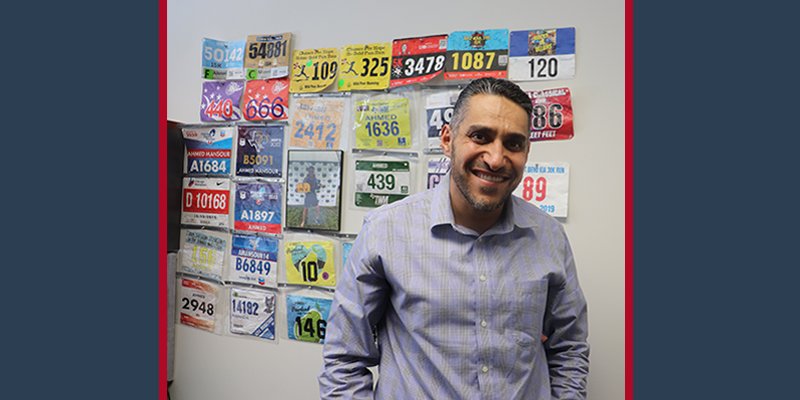 Ahmed Mansour joined the staff at The University of Texas MD Anderson Cancer Center UTHealth Houston Graduate School of Biomedical Sciences earlier this year. He holds a bachelor's degree in computer engineering from Kuwait University. As the GSBS software developer, Mansour has worked diligently to familiarize himself with the software programs we utilize to keep the Graduate School operating smoothly. When he is not in the office, Mansour enjoys long-distance running—in fact, he recently received notification that he got into the 2024 London Marathon! The following Q&A provides a few quick facts about our new team member.
What is your current title, and what do you do day-to-day?
My title is software developer II. My day-to-day activities include coding, designing, problem solving, collaboration, code reviews, testing, documentation, and continuous skill improvement through learning and research.
Are there any upcoming projects you are working on?
I will soon be focusing on updating and upgrading the myGSBS application.
What most excites you about working at the GSBS?
The prospect of professional development and continued learning at the GSBS is an exciting opportunity for me. There are a lot of opportunities for growth, and I'm eager to enhance my skills, take on new challenges, and continuously evolve my role.
Do you have a fun hobby you enjoy doing outside of work?
Yes, I love running marathons. I have completed 10 marathons so far, and my next big one will be the London Marathon. I have tried to get into the London Marathon since 2019, so it was unbelievable when I got the news that I had earned a spot in the 2024 race.
What are you most looking forward to in running the London Marathon?
I am running for charity and chose the MS Society UK. I'm most excited to be running for a cause that will literally make the world a better place.
What skills in your skillset do you find most valuable in your work?
Adaptability is an important skill for my job. I'm comfortable learning new programing languages, frameworks, and tools. Being versatile allows me to stay current and make informed decisions about technology choices.
Do you have a favorite memory at the GSBS so far?
Yes, having lunch at the round table in the GSBS Commons with my colleagues. I've never been so excited for lunch time before.