MID PhD student Jennifer Hurtig Q&A
October 17, 2022
CAROLYN AGURCIA-PARKER, DRPH/MD ANDERSON UTHEALTH HOUSTON GRADUATE SCHOOL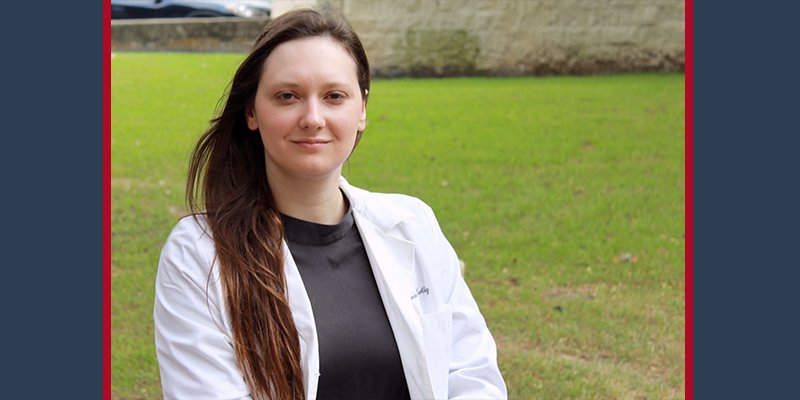 Jennifer Hurtig is a fifth year PhD student in the Microbiology & Infectious Diseases program in the lab of Ambro van Hoof, PhD. When Jennifer started her undergraduate degree, she did not even know that science could be a career. Now, she is studying other roles of the tRNA splicing endonuclease and how its unknown functions contribute to neuronal disease.
Hurtig joined the GSBS in 2017. She knew she wanted an advisor who would be invested in mentoring her, but also allow her a lot of space to work on her own – and she found that in Ambro van Hoof's lab. She is on track to graduate soon and is looking to leave academia and venture into the work of pharmaceutical or therapeutic development. Hurtig shares her graduate path and advice to first year students in this interview.
What ignited your passion for science, and why did you choose the GSBS for your graduate education?
"I did not even know science was a career until I started undergrad! When I visited the GSBS, I thought the deans and faculty seemed very positive and student-focused. I like that there were no undergrads, so the faculty and staff were just there for the graduate students and that I was not required to teach. The career development office was also a positive. The stipend for the cost of living in Houston was reasonable and the students seemed happy."
How did you choose a lab or advisor?
"I knew I wanted an advisor that would be invested in mentoring me as a scientist while allowing me space to work things out for myself. Ambro was the perfect PI for me because he is very hands off in the lab, but his door is usually open. We can walk in and ask him questions at any time. The MID department is also close, and we have a lot of fun."
What is your current research about, and how did you choose it?
"My current research is investigating the other roles of the tRNA splicing endonuclease (TSEN) and how its unknown functions contribute to a human neuronal disease. I chose my lab because of Ambro, but when I was rotating, he presented a potential grant (what is now my project) to a local organization of scientists, TMC Fungi Fungal. I asked him 30 minutes later if I could have that project if I joined the lab!"
What goals do you have for your career?
"I currently plan to leave academia and look for a job in industry. I would like to work for a pharmaceutical or therapeutic development company. I also enjoy 'basic science,' so I would like to have projects throughout my career that both contribute to the understanding of fundamental molecular biology and develop therapies for patients. I also would like to work in industry in Boston. I miss the snow."
Name some successes you have had during your time at the GSBS.
"The GSBS and UTHealth Houston have generously given me several awards for which I am incredibly honored and grateful. My main project and side projects have luckily been fruitful, which is of course due to Ambro's support. I am most grateful that I get to come into a great lab with a wonderful boss and enjoy what I do while making some contributions to science.
What has been your biggest failure and how did you overcome it?
"Failure happens on a daily basis. I just enjoy my project and the environment enough that I can keep going. I also find that having hobbies at home—especially those that involve creating something—helps relieve the negative feelings of seemingly not making any progress."
What advice would you give to a first-year student?
"Everyone has bad days, and everyone wants to quit at some point. Also, many grad students have imposter syndrome, so it is important to talk about those feelings with others because they undoubtedly have felt the same."
What's something you like to do when you are not working in the lab?
"I dabble in some hobbies including painting, crafting, knitting, kayaking, hiking, gaming, refinishing furniture, and of course, giving my cat and dog all the pets and belly rubs."