Research Retrospective: Medical Physics student Ferrone working on radiation shielding that could benefit astronauts, cancer patients
July 21, 2021
By Mary Ann Hellinghausen, MD Anderson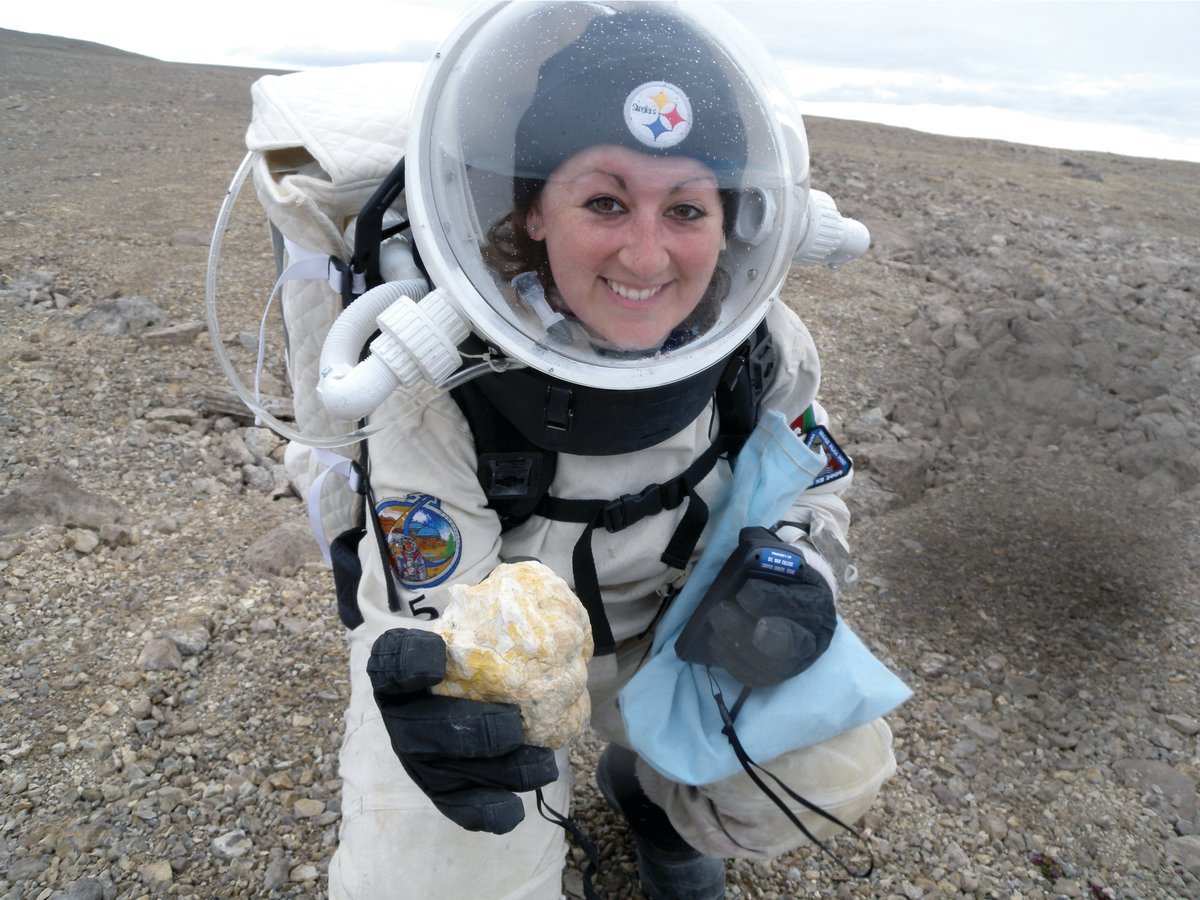 **This story was originally published in the 2017-2018 GSBS Year In Review and has been reposted as part of a GSBS Research Retrospective, a series which highlights past research stories that illustrate the uniqueness of studying at the Graduate School.
Kristine Ferrone has survived Mars – or a simulation of the Red Planet, anyway.
During the summer of 2009, Ferrone and five other volunteers lived for a month in a cramped habitat erected on the edge of a 39-million-year-old crater carved out by a meteorite on a barren Canadian island. It was about as close as you can get to a Mars-like environment on Earth.
The simulation, sponsored by The Mars Society, a non-profit organization dedicated to exploring and settling Mars, was an opportunity to conduct geophysical experiments, try out laser therapy to relieve symptoms of physical exertion, and learn about the challenges of minor injuries and illness in such a stark environment.
"This unique simulation experience was the closest mindset to being in space,'' Ferrone says. "It was invaluable. I go back and draw from it often."
Radiation effects on astronauts and cancer patients
A third-year doctoral student in our Medical Physics graduate program, Ferrone is conducting research into radiation shielding that she believes could yield benefits for future astronaut pioneers exploring beyond low-Earth orbit, as well as cancer patients here on Earth.
A 10-year NASA veteran, Ferrone has worked as a NASA flight controller for the International Space Station and continues working part-time as a systems engineer for The Aerospace Corporation during her graduate study. In addition to an undergraduate degree in astrophysics, she's earned three master's degrees – in space architecture, sports medicine and business administration.
"Human space flight is what I've been doing my whole career,'' she says. "The research I'm doing now aims to reduce the cancer risk for astronauts from space radiation. That's the end game.''
Ferrone's advisors, Charles Willis, Ph.D., associate professor, Imaging Physics, and Stephen Kry, Ph.D. associate professor, Radiation Physics, provide guidance for her dissertation research. Willis, also a former NASA researcher, made it to the top three final cut to be an alternate payload specialist astronaut in the late 1980s. Today his career at MD Anderson involves optimizing digital radiography – ultimately to make the best image for the physician while using the least amount of radiation necessary for the patient. Not unlike the goal of Ferrone's research.
Tackling a life-threatening environment
Ferrone hopes to be accepted into NASA's astronaut program one day. She applied in 2008, 2011 and 2016. She expects the addition of a PhD to her qualifications to significantly increase her chances.
To be prepared for any emergency thrown her way, Ferrone volunteers for the Pasadena Fire Department and flies for the Coast Guard Auxiliary. "It keeps me mentally sharp. It would be the same on a space mission: you throw on your gear and go into a life threatening environment. And it's fun!"
Would she be game for a trip to the real Mars?
"If I had the chance, I would go,'' she says. But she realizes there are significant technical and programmatic obstacles for human travel to Mars to become a reality in time for her to be eligible.
Linking space exploration and cancer research
In the meantime, Ferrone hopes her research will one day translate into benefits for space travelers as well as cancer patients.
"It's pleasantly surprising how many things can translate from MD Anderson-related research to the microcosm of space radiation," she says. "It takes an oddball person like me to see the connection. But there's a lot we can learn from each other."