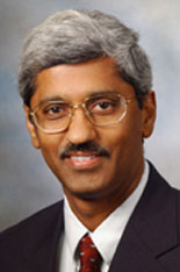 The University of Texas MD Anderson Cancer Center
Departments of Thoracic Head & Neck Medical Oncology and Comparative Medicine
Our research program in the broad areas of viral oncology and immunology focuses on understanding the biology, pathology and genetics of two viral diseases impacting human health: HPV-associated cancers and HIV-induced AIDS. The overall goal of our research is to develop procedures and reagents for prediction, treatment as well as prevention. Over the past 25+ years this research program has been supported by funds from NIH, sponsored research, and philanthropy.
Biomarkers and therapeutic vaccine candidates for HPV-associated neoplasia: Two currently approved HPV vaccines prevent human papillomavirus (HPV) infection and development of cervical neoplasia in young females, but these prophylactic vaccines based on viral L1 protein are unsuitable for the treatment of existing HPV+ dysplasia and cancers that express viral E6 and E7 oncogenes but not the L1 gene. We have discovered and patented HPV-16 E6/E7 peptides, for which women disease-free after treatment for HPV-CIN exhibited T cell immunity. Since HPV is sexually transmitted and the precancerous lesions are confined for the most part to the genital tissues, we are designing mucosal vaccination strategies for priming strong protective systemic and mucosal cellular immune responses, including the genital mucosal sites. In mouse model studies, mucosal intranasal immunization employing these E6 and E7 peptides admixed with novel adjuvants induced HPV-specific systemic and mucosal effector CD4/CD8 T cell responses that prevented HPV+ tumor formation. Therapeutic mucosal intranasal vaccination with these peptides in combination with adjuvants significantly reduced HPV tumor growth in mice affording long term survival advantage. Furthermore, intranasal E6 and E7 peptide vaccination in combination with immunotherapy employing antibodies to immune check point receptors that enhance/protect T cell responses resulted in significant tumor regression leading to eradication. These data support future clinical testing of combination vaccine immunotherapy strategies for effective treatment and possibly eradication of pre- and cancerous HPV lesions. As more data emerge linking HPV infection to also penile, anal, vulvar, and vaginal cancers, results from our studies may have a broader application to many other HPV+ cancers. A prime example for this is our recent collaboration with clinicians in the head and neck oncology for HPV+ squamous cell carcinoma of the oropharynx (SCCOP). We are investigating the potential impact of HPV-specific immune memory on the recurrence of HPV-associated SCCOP subsequent to standard therapy by radiation and/or chemotherapy. These studies are expected to aid in the development of novel prognostic markers as well as HPV16 oncoprotein/peptide-based immunotherapy strategies to allow for reduced toxicity of the standard therapy and afford better quality of life post-treatment.
HIV Vaccine Development: Our laboratory developed a synthetic peptide-cocktail vaccine based on highly conserved sequences within the envelope protein of HIV-1 that proved effective against AIDS development after pathogenic virus challenge in a series of studies conducted in non-human primates (rhesus macaques of Indian origin). In collaboration studies, we demonstrated that recombinant adenoviral constructs expressing the peptide cocktail as well as full-length HIV envelope induce protective immunity against mucosal viral challenge, the most prevalent route of HIV transmission worldwide. In the past few years we explored two specific hypotheses: (1) HIV vaccines must establish robust T cell and antibody responses at mucosa, to target the earliest and most vulnerable steps in infection where only a few cells are infected after mucosal exposure; (2) HIV vaccines delivered at mucosal surfaces will mediate more protective mucosal immune responses and better repel sexually transmitted HIV-1. We used helper-dependent Ad (HD-Ad) vectors expressing the envelope gene from HIV-1 and showed that serotype-switching with four species C HD-Ad vectors mediated robust reductions in viremia after high dose rectal mucosal challenge with CCR5-tropic SHIV-162P3 virus. We compared systemic intra-muscular and mucosal intra-vaginal routes of vaccination and observed higher mucosal immune responses and better protection after mucosal vaccination. Combining the Ad-platform vaccines with mucosal adjuvants investigated in our group support potential improvements in immune responses and efficacy
Novel anti-viral drug based on a natural product: With philanthropic support we are testing the anti-HIV activity of various proprietary compounds from the oleander plant extract. We showed for the first time anti-HIV activity of the Nerium oleander plant extract and demonstrated that this activity is related to the cardiac glycoside oleandrin. We also elucidated the mechanism of anti-HIV activity to be not in terms of reducing virus output but significantly reducing infectivity of the progeny virus. Thus our studies identified a new category of antiviral agents that is first-in-kind anti-HIV drug that could prove useful in the treatment of AIDS patients. Pilot study in rhesus macaque model provided valuable data on safety and pharmacokinetics of the reagent along with evidence in support of the efficacy of this reagent.
Education & Training
Ph.D. - National Dairy Research Institute - 1981
Programs
---
Faculty Development
---
---