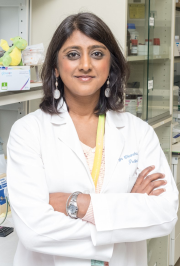 The University of Texas MD Anderson Cancer Center
Department of Pediatrics Research and Department of Epigenetics and Molecular Carcinogenesis
Our lab conducts multidisciplinary translational research in pediatric oncology therapy and survivorship with an emphasis on brain tumor and leukemia therapeutics and roles for modifiable behaviors in treatment outcomes. Some current projects include:
Chromatin modifiers in pediatric and adult high grade glioma.
Kinase signaling pathways using novel agents to overcome therapy resistance in brain tumors and in kinase driven leukemias.
Modifiable behaviors such as diet, tobacco use and circadian rhythmicity of these behaviors as modulators of treatment efficacy in acute leukemias, and of late effects of chemotherapy.
Past and current graduate students in our lab have won NIH and CPRIT fellowships, and national awards and recognition from the American Association for Cancer Research (AACR) and the American Society of Hematology (ASH).
Education & Training
Ph.D. - MD Anderson UTHealth Graduate School - 1998
Research Opportunities
---
Programs
---
Faculty Development
---
---