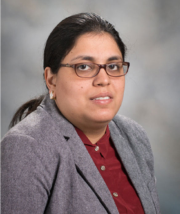 Nidhi Sahni
Regular Member
Associate Professor
The University of Texas MD Anderson Cancer Center
Department of Epigenetics & Molecular Carcinogenesis

My laboratory is focused on systems biology of human cancer, integrating large-scale computational genomics and high-throughput experimental platforms to address fundamental problems in the modern era of personalized or precision medicine. The lab seeks a systems-level understanding of the underlying genetic and epigenetic aberrations in cancer heterogeneity and immunity. We aim to identify novel biomarkers and drug targets, and to have a major impact on cancer by translating into more effective prognosis and therapy for human cancer.

We use an advanced set of state-of-the-art technologies, including high-performance computing, signaling network analysis, Gateway technology, high-throughput screening, genome editing, proteomics and next-generation sequencing. To achieve systematic and significant insights in cancer progression, my lab focuses on the following areas:
(I). Systematic computational analysis of signaling networks in human cancer;
(II). Develop robust bioinformatics and computational algorithms to prioritize driver mutations from next-gen sequencing data;
(III). High-throughput CRISPR screens and proteomics to identify driver events contributing to tumorigenesis;
(IV). Functional characterization of genomic mutations in cancer cell models
Tutorials in my laboratory can include a wide range of topics in systems biology, including computational analysis, statistics, bioinformatics, molecular biology, proteomics, and biochemistry. The integration of these technologies will provide valuable insights into genomic mutation-mediated signal transduction network alterations in cancer biology.
Education & Training
PhD, The University of Iowa, 2010
Research Opportunities
---
Programs
---
Faculty Development
---
---