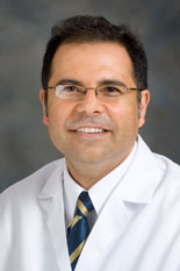 Bulent Ozpolat
Regular Member
Associate Professor
The University of Texas MD Anderson Cancer Center
Department of Experimental Therapeutics
My research is focused on 1) developing highly specific tumor-targeting nanocarriers (nanoliposomes and polymer-based nanoparticles) for the delivery of oligonucleotides, non-coding RNAs (i.e., siRNA, microRNA , anti-Mirs), peptides, proteins, drugs and small molecule inhibitors, 2) studying the role of survival pathways, including autophagy and eEF2-kinase (eEF2K) signaling and development of novel therapeutic agents (small molecule inhibitors and siRNA-based nanotherapeutics) that target these pathways and 3) development of these agents into clinical strategies for patients.
Currently, we are studying the role of eEF2-kinase (eEF2K) signaling in solid tumors and validating it as a novel therapeutic target in solid tumors including breast. We recently discovered that eEF2K is overexpressed in breast cancer cells and promotes cell proliferation, invasion and metastasis and tumor growth. We demonstrated for the first time that therapeutic targeting of this previously untargeted kinase by systemically administered siRNA-nanotherapeutics that we developed inhibit growth of breast tumors in preclinical models (Tekedereli et al, 2012). In collaboration with Dr. Kevin Dalby (UT-Austin) we also identified a small molecule inhibitor for eEF2K and developing this compound for testing in preclinical tumor models with the goal of translating these findings into clinic for clinical trials in patients.
In our nanotechnology platform, we have developed tumor-targeting (tumor cell and tumor microenvironment; tumor-associated macrophages, angiogenic endothelium) using liposomal technology and nano systems to deliver potential drugs such as oligonucleotides (siRNA, microRNA), therapeutic peptides, small molecule inhibitors and anticancer agents. Currently, we develop nanoliposomal delivery systems targeted to tumor-specific receptors (folate, integrin, PSMA, bFGFR, sigma receptors etc) for siRNA and small molecule therapeutics to decrease side effects to normal tissues and increase efficacy of these drugs. siRNA has become due to the difficulties of systemic siRNA delivery (Ozpolat 2010).
Autophagy is a catabolic process for the degradation of damaged cellular organelles, long-lived and misfolded proteins, and serves as a cell survival mechanism during nutrient and growth factor deprivation and in response to anticancer therapies such as chemo, radiation and hormonal therapy (see figure: Hasima-Pitchai & Ozpolat 2012). We are targeting autophagy pathway to break resistance of tumor cells to survive hypoxic, metabolically and therapeutically challenged harsh tumor microenvironment (Review: Dalby & Ozpolat 2010). Recent studies including ours indicate that autophagy also functions in cell death (Akar & Ozpolat et al Autophagy 2007,2008 and). We demonstrated that autophagic cell death can be used as an alternative cell death mechanism to eliminate breast and pancreatic cancer cells that are resistant to apoptosis (Akar, 2007, 2008). [See figure]
A tutorial in our laboratory would provide understanding of signaling pathways, programmed cell death autophagy and, experience in techniques such as tissue culture with various cancer cells, proliferation assays, siRNA mediated gene silencing, in vitro and in vivo preclinical tumor models of breast, ovarian, prostate and pancreatic cancers, testing of small molecule inhibitors, chemotherapy and specific tumor targeted therapies, clonogenic assay, flow cytometry, apoptosis and autophagy assays, Western blot, PCR, and molecular biology techniques in studying signal transduction pathways and regulation of tumor growth.
I am member of Center for Targeted Therapy, Alliance for Nano heath, Texas Center Cancer Nanomedicine (CCNE), Ovarian Cancer Moonshots, Non-Coding RNA Center at MDACC and closely collaborating Dr. Kevin Dalby (UT-Austin) Dr. Michael Ittmann, (Baylor College of Medicine), Dr. James Sahn (UT-Austin), Jonathan Sessler (UT-Austin) Dr. Fahri Saatcioglu (University of Oslo). As part of ovarian cancer study group I am collaborating with Drs. Lopez-Berestein, Sood and Coleman to develop tumor- targeted therapies. I serves as a reviewer for several journals and study sections and published many papers and review articles in high impact journals and contributed to 12 book chapters. Dr. Ozpolat is holding a patent and several applications are pending.
Education & Training
Ph.D. - MD Anderson UTHealth Graduate School - 2000
Programs
---
---