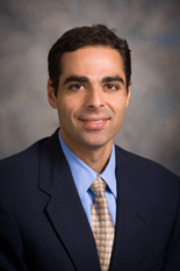 Gheath Al-Atrash
Regular Member
Associate Professor
The University of Texas MD Anderson Cancer Center
Department of Stem Cell Transplantation
I am a physician-scientist in the Department of Stem Cell Transplantation and Cellular Therapy, Section of Transplant Immunology. The overall objective of my research is to develop novel immunotherapies primarily for hematologic malignancies, but also for some solid tumors. Specifically, we have identified novel targets for immunotherapy in myeloid leukemia and we are in the process of testing these targets in mouse models. We are also characterizing the expression pattern of these antigens in the different types/subtypes of myeloid and lymphoid malignancies, and investigating the immune response to these antigens in patients following allogeneic stem cell transplantation (allo-SCT).
We also study antigen presentation/cross-presentation mechanisms in solid tumors and the value of immune checkpoint blockade in leukemia. We identified cross-presentation as a novel mechanism in solid tumors (i.e. non-antigen presenting cells) whereby cells lacking endogenous expression of an antigen express tumor antigens by cross-presentation, becoming susceptible to killing by immunotherapies that target these antigens. We are studying the mechanisms of antigen cross-presentation in solid tumors, specifically breast cancer and melanoma, to determine how cross-presentation shapes anti-tumor immunity. Additionally, we are investigating checkpoint molecules PD-L1, PD1 and CTLA4 in myeloid leukemia, with the goal of applying checkpoint blockade following allo-SCT.
Our research is conducted using primary patient cells/tissues and human cell lines. The principal assays include flow cytometry, confocal microscopy, western blots, cytotoxicity assays and molecular assays, including PCR, shRNA and gene transfection. We also conduct in vivo human xenograft mouse models to investigate the activity of our immunotherapies against human cancers.
Education & Training
D.O., Ph.D. - University of North Texas Health Science Center - 2002
Programs
---
---