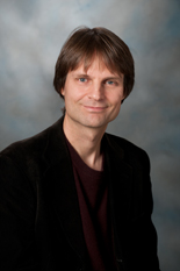 The University of Texas MD Anderson Cancer Center
Department of Genitourinary Medical Oncology
Peter Friedl holds the chair for Microscopical Imaging of the Cell at the St. Radboud University Nijmegen Medical Centre, University of Nijmegen, The Netherlands. Starting 11/2011, he additionally holds a 20% joint-appointment as head of the imaging section at the David H. Koch Center, Department of Genitourinary Oncology, MD Anderson Cancer Center, Houston, TX, USA. He received his M.D. from the University of Bochum (1992) and the Ph.D. from McGill University, Montreal, Canada (1996), After a decade of clinical work as Dermatologist (1996-2006) he now focuses exclusively on basic and translational research. His research topics are the time-resolved visualization of cell-matrix interactions and cell patterning during cancer invasion and immune cell interactions with reference to integrins and other adhesion mechanisms, surface proteases and cytoskeletal regulators. The models include 3D ECM based cell culture models and advanced imaging procedures and intravital imaging of tumor and immune cell migration using multiphoton microscopy. In the past, key findings were the mechanisms of proteolytic and non-proteolytic cell migration; the diversity of tumor invasion and interaction with the tumor stroma (amoeboid, mesenchymal, collective); and novel escape responses of tumor progression during targeted experimental therapy (mesenchymal-amoeboid transition, collective-amoeboid transition). Current work focuses on the mechanisms of cancer invasion and metastasis, using organotypic 3D culture techniques and intravital multiphoton microscopy, and cancer resistance to molecular, conventional and immuno-therapy.
Projects/Techniques: 3D extracellular matrix based invasion cultures (individual cell invasion, collective invasion); time lapse and high content microscopy of invasion; multiphoton intravital imaging of cancer invasion in small animal models; 3D confocal microscopy of invasion and tissue remodeling
Education & Training
MD, University of Bochum, 1992
PhD, McGill University, 1996
Programs
---
---