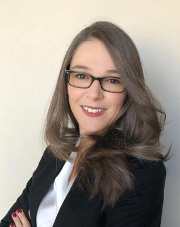 Giselli Scaini
Associate Member
Instructor
The University of Texas Health Science Center at Houston
McGovern Medical School
Department of Psychiatry and Behavioral Sciences
Despite their wide prevalence, the etiology of psychiatric disorders remains unknown. Its pathophysiology is extremely complex, orchestrated by several mechanisms that act synergistically. Thus, the investigation and the characterization of the underlying pathophysiological mechanisms of psychiatry disorders are of the highest clinical interest because it would allow the diagnosis of psychiatry disorders with higher sensitivity and specificity and open the gate for individual treatment strategies to make personalized medicine available in psychiatry.
My research program focuses on discovering innovative mechanisms associated with mitochondrial dysfunction in patients with psychiatry disorders, with a focus on mood disorders. My studies revolve around the hypothesis that mitochondrial genetic background and function might potentially influence individual susceptibility to mood disorders development, reveling etiologically meaningful subtypes of bipolar disorder (BD) and major depressive disorders (MDD) patients, which will influence the characterization of an individual's disease state and assist in developing preventive and therapeutic strategies that efficiently preserve or improve mitochondrial function in these patients.
Experimental approaches include translational research with clinical, neurocognitive, and neuroanatomical datasets, investigation of post-mortem brain
tissue, blood and Human induced pluripotent stem cell (iPSC)-derived neurons from patients and controls, and various molecular biology and biochemistry techniques. Currently ongoing projects are focused on the role of mitochondrial genetics and function in bipolar disorder and major depressive disorder endophenotypes, and the establishment of mitochondrial biosignature of BD and MDD related to clinical outcomes and disease stage.
McGovern Medical School Faculty
Education & Training
PhD, Universidade do Extremo Sul Catarinense, Brazil, 2014
Programs
---
---