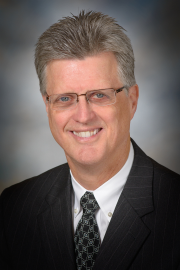 The University of Texas MD Anderson Cancer Center
Departments of Infectious Diseases, Infection Control & Employee Health and Molecular & Cellular Oncology
David Tweardy is a physician-scientist with a career-long interest in cytokine signaling, immunity, and oncogenesis. His research has focused on identifying structural and biochemical features of signaling proteins and oncoproteins that render them susceptible to modulation by small-molecules. His group discovered that the major eukaryotic chaperonin, TRiC, contributes to the folding and function of signal transducer and activator of transcription (STAT) 3 protein, which led to the finding that STAT3 LOF mutations identified in autosomal-dominant hyper-IgE (Job's) syndrome (AD-HIES), a primary immunodeficiency disorder, caused destabilization and dysfunction of STAT3 protein; the stability and function of these LOF mutant proteins were improved with small-molecule proteostasis modulators. His group also determined that STAT3 GOF mutations, in contrast, stabilize STAT3 homodimers and cause cancer by increasing STAT3's DNA-binding affinity. His group first conceived of inhibiting STAT3 using small-molecules that target STAT3's site of binding to receptor pY-peptide ligands. They developed strategies for virtual-ligand screening of chemical libraries, hit evaluation, and hit-to-lead development that identified TTI-101 (formerly C188-9). In addition to blocking STAT3's recruitment to activated cytokine receptors, TTI-101 blocks STAT3's tyrosine phosphorylation, homodimerization, and nuclear translocation and effectively targets cancer-causing STAT3 GOF mutations. Preclinical studies are ongoing in the lab and in the clinic to explore the utility of proteostasis modulators to treat AD-HIES and to further develop TTI-101 into a drug to treat and prevent multiple cancers, including cancers of the liver, colon, breast, and respiratory track, as well as diseases characterized by chronic inflammation and fibrosis, such as inflammatory bowel diseases, cachexia, asthma, idiopathic pulmonary fibrosis, cirrhosis, and scleroderma.
Education & Training
MD, Harvard University Medical School, 1978
Programs
---
Faculty Development
---
---