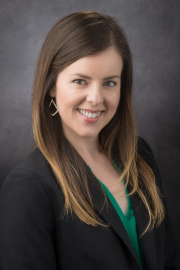 Amy Moreno
Associate Member
Assistant Professor
The University of Texas MD Anderson Cancer Center
Department of Radiation Oncology
Research Description
The Moreno Lab aims to advance precision oncology by applying informatics to data management, visualization, and analysis along with simultaneous development and rigorous validation of clinically applicable advanced (machine learning/AI-based) computational modeling of treatment-related toxicities which represents an unmet clinical need. Our long-term goal is to develop innovative, evidence-based clinical decision support systems that seamlessly integrate patient-generated (i.e., patient reported outcomes) and provider-generated data to improve the equity, efficacy, and efficiency of multidisciplinary cancer care.
Areas of Interest & Research:
Clinical Research Informatics:

According to AMIA (AMIA.org), "clinical research informatics involves the use of informatics in the

discovery and management of new knowledge

relating to health and disease." In the Moreno Lab, we focus on applying informatics to:
Standardization of data reporting and automation of oncologic data collection, extraction, and analysis
Advanced database management
Exploring information visualization and analytics
Operational ontology development using the modified Delphi method
Advanced Computational Modeling. Our lab is interested in developing robust, advanced computational methods for assessing cancer response to (multimodal)therapy, early and accurate prediction of radiotherapy-related acute and late side effects, and exploring algorithmic management of toxicities for improved patient quality of life and relevant cancer outcomes (i.e., locoregional control, overall survival).
Implementation and Dissemination Science. Implementation of information tools in clinical practice is highly encouraged but often difficult to realize due to unaddressed barriers to practical application. Our lab studies implementation strategies with formative evaluation to identify and address barriers to sustainable implementation efforts. This comes hand in hand with the development of educational materials and resources for dissemination and reproducibility of implementation efforts at the institutional and national level.
Education & Training
MD, Yale University School of Medicine, 2014
Programs
---
---